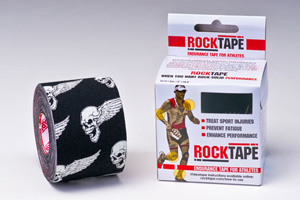 Rocktape is, for Cyclo's money, far and away the best kinesiology tape available. Useful for supporting injuries in a variety of ways, Rocktape can also be used to apply compression for injuries (potentially reducing inflammation and speeding recovery) and to help fatigued and 'pulled' muscles repair – used sensibly it can even allow for the continuation of exercise during a recovery period.
We've tested this under numerous conditions and for treating and supporting a range of minor niggles and it plays out well right across the board, but there are a number of unique selling points to Rocktape that really raises it above the competition. For a start the huge amount of elasticity means that it can be more accurately applied and provides far better range of motion once in place, it also (crucially) stays absolutely put even under hot and sweaty conditions. Secondly not only is the width generous but because it isn't pre-cut it can be used at lengths that best suit the injury, so everything from IT band to plantar problems can be addressed. That really brings us neatly to the third thing we love about Rocktape – the manufacturers take the time and effort to clearly and precisely spell out its uses, including a details instructional leaflet and online video guidance to help you get the best from it.
For bonus plus-points, and purely on the fun side of things, it is available in a wide range of colours and designs that even includes hard-as-nails looking tattoo or skull options. Aiding recovery has seldom looked so cool… Costing a little more than some of the competition (expect to pay in the region of £10 for 5m, good for around 5-10 applications to injury) but far superior than most. Well worth the extra in Cyclo's opinion and if you don't want to take our word for it then note: Rocktape are the official tape supplier to Team Garmin Cervelo, so now you can recover, if not quite ride, like a pro.
Available from www.rocktape.net