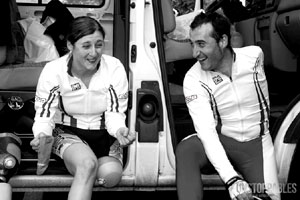 Currently still in production, the documentary 'Unstoppables' follows two of Spain's most influential and motivational Paralympians – Juan Jose Méndez (known to all as 'Juanjo') and Raquel Acinas – as they trained for and competed at the London Paralympics. Director Dani Jariod followed the self-styled 'Pirates Team' for more than two years and Cyclo caught up with him and executive producer Richard Galvani post-Games and discovered that, despite Juanjo and Raquel not fulfilling their Paralympic dreams, their aim and that of the film, remains the same: To inspire…
Cyclo: How did the idea for this film come about?
Richard Galvani: When we sat down to decide what we would do next as a production company I said 'I want to do something inspirational'. I had just watch a documentary on Afghanistan and we hear about the one or two that very sadly die, but we don't hear so much about the dozens that come back with these life-changing injuries. I've seen personally the benefits to people getting involved with sports clubs; it immediately breaks down all levels of colour, race, creed and physical ability.
Dani Jariod: In the beginning the project was far more widespread. The initial idea was to follow different athletes from different categories and sports and even different Spanish regions. But once we went to the velodrome (in Barcelona) and met Juanjo and Raquel everybody went: 'Stop the press!' There was no need to be looking for others; here we had all we needed to tell our story.
Cyclo: Were Juanjo and Raquel immediately receptive of the idea?
Dani Jariod: I sat down with them and told them our intentions and they were very friendly from minute one. Very open and generous and we all have to thank them for that.
Cyclo: No nerves about the extra pressure?
Dani Jariod: Not at all. They are not exactly famous in Spain, but certainly relevant. Every time someone from the media goes to the Paralympic Committee looking for a spokesperson they get a short list of six or 10 athletes and Raquel, for instance, is always one of them. She is very open to all this kind of stuff because she is very eager to do anything that spreads the word of disabled sports and to show all that sport can do to help disabled people.
Cyclo: Cycling has a huge fan-base in Spain. Has para-cycling always had the same following?
Dani Jariod: When Juanjo started after his terrible accident he did it just because he needed to do some sport – he was in his wheelchair all day long and feeling miserable; cycling was always his favourite sport and so just got on and did it. Then he realised there were these para-cycling competitions, so he decided to become more professional about it. It is not so common in Spain although things have changed in the last 20 years but it still has a long way to go.
Cyclo: How did you find the facilities in London?
Dani Jariod: Wonderful. I'm used to the old velodrome that we have in Barcelona which goes back to something like 1987; an open velodrome that has its charm but it's old and a bit rusty and you come here and see this huge and wonderful velodrome… I have enjoyed it very much.
Cyclo: And Juanjo and Raquel?
Dani Jariod: The experience of participating, of course absolutely. It's the Paralympic Games after all! They have worked hard and earned their position here so they are delighted to have competed. On the other hand they feel a bit disappointed because of the results. But it's the same at the club at home as here: if you fall, you get up. That's the main thing. The last day after the Road Race at Brands Hatch they were a bit disappointed but the next day they were already preparing for Brazil – 'Okay, let's go for the next one!'
Cyclo: Amazing achievements for them both in London, but not the results that Juanjo or Raquel had hoped for.
Richard Galvani: They didn't get any medals this time largely because of the change of categories; Juanjo in particular was lumped together with C2 and C3 riders, racing against people with prosthetics below the knee or even with two legs but with hand disabilities for example. They lost out; you simply can't compete against someone with two legs… Juanjo was leading his race at Brands for about a quarter of the event, but with one leg of course every time they went up hill the others would pass him and he could only get them back on the downhill and on the straights. Even the commentator was saying how amazing he was.
They came here and did their best, Raquel got a Paralympic Certificate and Juanjo goes home with a couple of Certificates and they have been an example to everybody.
Cyclo: How early did you know about the rule changes?
Richard Galvani: I didn't know anything until the Games had started. I presume they did, but I don't know if they knew exactly what to expect. The team is managed by the national coach who is in Madrid and they are both from Barcelona; there is always a lot of rivalry between the two cities – a bit like the football – and perhaps they didn't get quite the same treatment as far as information went.
Also their club trainer wasn't given accreditation for The Games and Juanjo suffered at the Time Trial at Brands Hatch because of that; he finished fifth but could probably have gotten bronze if he had had feedback on times – he thought he was in bronze medal position but no one was giving him his times! He's 48 now and he got a medal at Beijing and Athens and he wanted that hat-trick and maybe retire…
Cyclo: Do the results change the nature of the film?
Dani Jariod: Only very, very slightly. After all it's about overcoming whatever obstacle you face. I would have loved to see them getting a medal because they really deserve it, but that's talking as a friend. But thinking as a filmmaker, the documentary never set out to focus on medals, it is about their spirit, about who they are and what they do because they are very inspirational to everybody. That hasn't changed one bit.
It's perhaps even more inspirational if you see them after the apparent disappointment of not getting medals, because they get up and just start riding again.
Richard Galvani: Of course Juanjo and Raquel were hopeful that they would get a medal in London, but that's not an integral part of the film, the main thing is to inspire people with disabilities – which is a term I hate because they are quite able to do anything – to get on their bikes and get involved with sports and improve the quality of their lives… It would have been lovely if they had won a medal, but on the other hand many people will watch this and say 'I'll never win a medal', so this really is about the taking part.
Cyclo: What's your approach to filmmaking with 'Unstoppables'?
Dani Jariod: Our way of shooting is very observational, we don't interfere with anything. We just watch… Occasionally we do one or two interviews, but really we just follow day to day. So there was no interference from us and we never asked them to do anything for us or repeat anything. We just watch, that is enough.
Cyclo: You still have work to do on the film. What's next?
Dani Jariod: We still have some stuff to shoot. This project was so exciting, but with a huge unknown question hanging over it: are they going to get a medal? Right now we have those results and we need to close that chapter and look at the repercussions, to see what will happen to their lives after London 2012. We will be shooting until November and then the editing process begins.
Cyclo: That's going to be a huge task.
Dani Jariod: You have to be patient. The worst thing, as I say, is that initially we didn't know the ending. Now we do, so some of the things we have shot along the way will now have a different meaning. Now it's time to get the story straight. It's a slow process but it's very clear in my head what sort of story we are about to tell the world…
'Unstoppables' is produced by Black Train Films with part sponsorship from Cofidis, for more information see www.unstoppablesdocumentary.com
To read Cyclo's interview with Juanjo and Raquel, click here.