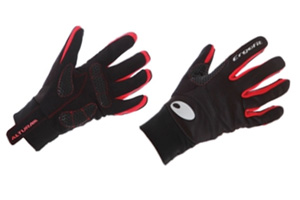 Not that we've exactly had a scorcher of a summer, but things have certainly turned distinctly autumnal in the last few weeks and the nip to the fingers has been noticeable. Timely, then, that Cyclo has just taken delivery of a pair of Altura Ergofit gloves to put through their paces and with the manufacturer calling them 'ideal for winter road riding' now was clearly the time to get going…
The outer shell of the Ergofits comprises of 50% Nylon, 30%Polyester, 20% Polyurethane with the inner lining being 100% Polyester, the result is a good balance between responsive flexibility and ruggedness that suggests they would survive (and protect the hands) in the event of a spill. Although they don't feel particularly thick the insulation against a near-zero wind-chill on our morning rides was more than adequate – Cyclo can't quite vouch for the depths of winter yet, but so far so good with the rear-hand shell even managing to repel some lively showers.
The multi-panel design and well-positioned ProGEL pads added to both comfort and grip stability, whilst fairly generous Lycra cuffs tucked easily into the jacket sleeve to further fend off the cold. The lightly flocked, suede-effect material across the front of the hand extends around the outside of the thumb, useful for wiping away a little sweat (or winter nose-run), but beware of your aim as a swipe of the reverse side's pad is a scratch best avoided.
Well priced at £34.99 the Altura Ergofits are available in sizes S-XX although only in the (admittedly natty) black and red colour combo. Comfortable, tough, warm and reliable – 'ideal for winter road riding' sounds right on the money.
For further details and to find a retailer see: www.zyro.co.uk