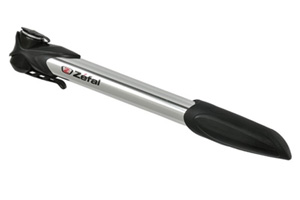 If you're looking for exceptional value for money when it comes to buying a micro pump then the Zéfal Air Profil certainly fits the bill. At less than £15 it's the kind of price you would expect to pay for a bog-standard all-plastic affair for your kid's bike; but does buying cheap mean buying twice?
On the contrary the Air Profil seems remarkably well constructed given the price point – you could easily double (and then some) for the price of other manufacturers – and although the handle is plastic, the barrel, stem and thumblock are all aluminium for rigidity and, hopefully, longevity.
230mm in length and weighing in at 92g it achieves 8 bar (116 psi) with ease, but being a mini pump there is work to be done in fully inflating a tyre – it took us just shy of 180 strokes to completely refill a flat, but even squeezing in those final few puffs required little effort, with a good valve connection throughout and a comfortable, ergonomic handle design which didn't leave any unwanted pressure sores. Cyclo's only word of warning is that the screw cap for reversing the Presta/Schrader connection was initially so tightly secured that it required a multi-tool to shift the first time out – not something you want to have to deal with on the road with freezing fingers.
Not surprisingly the pump attaches to the bike frame via the water bottle mounts and the clip that holds it in place is augmented by a Velcro strap. This might, at first glance, look almost literally like 'belt and braces' but it does an excellent job of insuring that it's still there when you need it.
A decent o-ring to prevent water entering the chamber between the stem and body should be something you check for whenever buying a pump and with the Air Profil you get not only this but a second sliding o-ring on the body which simply slips out of the way when pumping; a nice touch which many more expensive models neglect. Cyclo have had this pump on test for a month and so far no sign of any slacking off in parts or action despite some fairly rough handling. It remains to be seen if a mini pump at this price will truly withstand the rigours of a full winter, but so far we're impressed by this budget model.
For further details and to find a retailer see www.zyro.co.uk