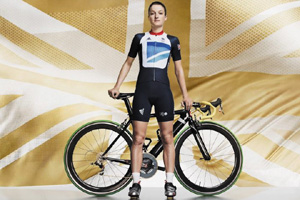 Olympic Silver Medalist Lizzie Armistead is amongst a select field lining up for a very different kind of challenge this Christmas, as the BBC announce plans for a one-off 'Superstars' special. The cult TV show, first broadcast in 1973 – some 15 years before Armistead was even born, ran until the mid-80s and pitted various sporting stars against each other in a series of challenges which culminated in the notorious 'gym test' ('behold Brian Jack's squat-thrusts…')
Aside from the gym test, Armistead – the first to score a medal for Britain at this summer's Games – will compete in seven other events comprising: 100m, 800m, javelin, archery, kayak, 50m swim and, what should be a stand-out round, cycling hill climb. Her fellow competitors, all Olympic Medalists, include: Jade Jones (taekwondo), the Brownlee brothers (triathlon) and the mighty Mo Farah.
Date of broadcast has yet to be announced; Cyclo will keep you posted, but while you wait check out the original theme tune below – you'll be humming it all day.