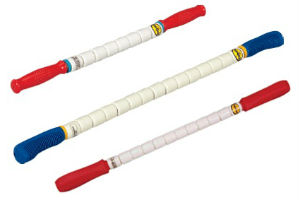 At first glance The Stick self-massage gizmo looks like a gimmick and ranging in price from £27.99 to £47.99, depending on size, a pretty expensive gimmick at that. But having heard so many people (cyclists and marathon runners in particular) rave about the benefits Cyclo thought it time to take a closer look…
Invented back in 1991 in America, The Stick is, in essence, a long… erm… stick, with handles at either end and a series of free-rotating spindles between; these look disturbingly like vertebrae but are, in fact, the bits that really go to work on sore muscles when you begin your self-massage session. It can be employed for a variety of massage sessions, working both trigger points and general deeper tissue pummelings, with the version Cyclo had on test (the shortest, 17inch and cheapest, £27.99) being particularly effective at working the legs.
We found some real benefits from use, both pre-ride warming and, in particular, post-ride workouts that shifted knots and released tight calf muscles quickly and efficiently. The price seems high, but compared to a single 30minute physio session things start to look far more cost effective.
It's hard to get beyond the feeling that The Stick is a gimmick; the US website describes it as 'The toothbrush for muscles', a completely ridiculous simile that doesn't stand up to even the slightest of inspection; whilst the UK site opts for the barely-better 'The massage tool for happy muscles'. But if you can get beyond the hype and are prepared for the initial outlay, then The Stick could be a true long-term friend for both injury prevention and recovery; this is certainly kit that Cyclo will keep close to hand (and leg) from now on.
True cheapskates should take a look at the ever-excellent (and often deranged) instructables.com website, where some penny-pincher has posted instructions for making your own out of household objects. We wouldn't swear by the results, but it will give you something to read whilst using your own (genuine) Stick.
Further details and online ordering at www.the-stick.co.uk