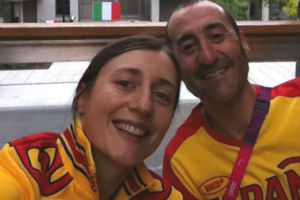 Raquel Acinas and Juan Jose Méndez – known to all as 'Juanjo' – are two of Spain's most celebrated, influential and successful para-cyclists. Although neither quite hit their expected marks at the London Paralympics, as stars of Dani Jariod's documentary 'Unstoppables' – which is currently in post-production and followed the self-styled 'Pirates Team' for more than two years – they are united in their belief that inspiring others is of paramount importance. Cyclo spoke with them post-Paralympics to talk about their training, Games experience, ambitions and involvement in this unique film…
Cyclo: What was a typical day's training leading up to London 2012?
Juanjo: We trained mornings and afternoons. Normally we'd hit the road in the morning to do a few fast rounds and then in the afternoon we would do the 'trasmoto' on the track, to get cadence, to get the right rhythm…
(Cyclo Note: during the 'trasmoto' the cyclist follows their trainer, who is riding a motorbike at 50km/h)
Raquel: The way our coach, Bernat, prepares it he combines the training for the Olympic Games with training for the track and road World Trials. A first stage, which is more aerobic, to get some body mass… and as we approached the Games we got into a more specific workout: a series of fast races on track and on the road, plus 'trasmoto' to achieve speed, and finally physical work on the road, pushed to the limit, to achieve long-term resistance.
Cyclo: Do either of you cross-train?
Juanjo: For me, no, just cycling.
Raquel: Yes, I do, especially swimming. And I have started lately to jog a little, but I need to learn the technical aspects a bit more. Now I am beginning to get serious about athletics in addition to cycling.
Cyclo: What about your diet?
Raquel: We have a dietician who guides us. We do not have any special diet as such, but we do have our meals arranged, five times a day, and we structure them so that we get all the nutrients. Our dietician advises us on how to prepare our meals. It is all about eating well and healthily.
Juanjo: For me – lots of vegetables, some pasta, a lot of fish and little meat. Everything usually grilled. And also omelettes, because of the eggs…
Cyclo: How did you feel when you were asked to be part of the Unstoppables film?
Juanjo: I felt fantastic! At first I wondered if it was serious… But to make a film about what we do here I found it to be something special.
Raquel: I was excited, especially knowing the reason for the documentary. We are proud to be part of a project that talks, as the title says, of being unstoppable, of never giving up. And seeing the impact it is having on the world it is a real pleasure being part of it.
Cyclo: Did participating in the documentary add to the pressure of competition?
Juanjo: No, it didn't. When you compete, you focus hard, and you cannot really think of anything else.
Raquel: No, the real pressure is that which you place on yourself, trying to improve your record again and again, and the pressure you get from the circumstances around you. The film did not add any extra pressure besides the normal pressure one feels in these cases.
Cyclo: How difficult is it to ignore that you are being filmed, particularly at times of additional stress – during a race for example?
Juanjo: Not difficult at all.
Raquel: No problem at all, we get on the track to do our workout and the people from the film are there, but that does not affect us.
Cyclo: What do you think a film like Unstoppables can achieve?
Juanjo: I think people will see that you can do many things. It will allow those who have a disability see that life is beautiful and you can do many things. And it is also important that children can see and learn this. Being able to show and teach this to others will be great. Not only learning seeing us, but also other people who have other disabilities, such as those many we saw at the Paralympic Games, people without arms or legs whom you just think it is impossible, for example, for them to swim, but they do. It's awesome. We need to be taught things like that.
Raquel: Many things. For starters, you can raise awareness about sports to people with disabilities and teach them that they can practice sports as we do; it is simply a matter of not being afraid and not believing in barriers. In the Games we saw people with disabilities that were much greater than ours who, you felt they would practice any sport no matter what the disability they might have. You feel that there are no limits for them. On the other hand, the film will increase the awareness of disable sports in our own country, and it will help many more people be recognized as top athletes, because the point needs to be made, and the movie makes it, that we do not exist only during the six weeks of the Games and then we vanish. We do exist and we train every day!
The full interview with Raquel and Juanjo will feature in the next issue of Cyclo for iPad coming soon. For issues 1 and 2 take a look at Cyclo at the iTunes Store – issue 1 is free, issue 2 just £1.49
'Unstoppables' is produced by Black Train Films with part sponsorship from Cofidis, for more information see: imparablesdocumental.com
To read Cyclo's Interview with the film's director Dani Jariod and executive producer Richard Galvani click here.