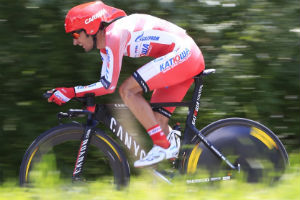 As we reported yesterday (December 11) Saxo Bank-Tinkoff Bank has been granted a ProTour licence for 2013, but at the seemingly inexplicable expense of Katusha, whose own application was declined by the International Cycling Union (UCI) despite the Russian team finishing second, behind Team Sky, in this year's Tour standings. With much mystery still surrounding the decision – and with the UCI rather unhelpfully commenting only that 'The request from the team Katusha for registration in the first division has been rejected.' – it is reasonable to say that Katusha are a little unhappy with the state of affairs.
In a strongly worded press release Katusha stated both their amazement and anger over the decision: 'At (the) present moment Katusha Team has no information regarding the reasons for the decision of the UCI to reject the request from the team for registration in first division. Team management, riders and staff are extremely surprised by the lack of justification for such a decision made by the UCI… In fact the only Russian team, where the majority of riders are Russian citizens, has been excluded from participation in races of the World Tour. Thus, this decision of the UCI has suspended Russia as a country from participation in cycling competitions of the highest level.'
Clearly not prepared to simply roll over, the team's statement continues, 'In the nearest future the management of the Russian team Katusha intends to investigate thoroughly this incident, first of all in order to give all possible explanations to the riders and staff of the team, as well as to choose a future strategy. In addition, the Katusha Team is not retreating from the plans that have been made for the next season and is preparing for the official team presentation, which is scheduled for mid-December 2012 in Italy.'
And as if that was not fighting talk enough, they conclude: 'The Russian team intends to defend its interests with the help of all possible civilized instruments and methods, including going to court…. Katusha is ready to fight and is stronger than ever.' Cyclo, will keep you posted.