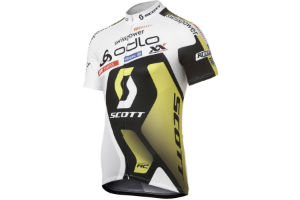 Founded in the mid-1940s by the brilliantly monikered Odd Roar Lofterød, whose motto was 'always make sure you're one step ahead', Odlo know a thing or two about producing technical apparel. With a solid reputation for innovative design and production the Odlo SwissPower jersey landed on Cyclo's desk with a bundle of high expectations.
A stand-up collar jersey with full-length zip for that bare chest ventilated look, the top, though obviously suitable for road riding, bares the busy design of the Scott-SwissPower mountian bike and cyclocross team. For more than a decade, the Swisspower development team has worked with Switzerland's up-and-coming mountain bike riders and, under the guidance of Thomas Frischknecht and Andi Seeli, yhey have won seven world championship titles, 10 European titles and a host of other MTB accolades. Naturally owning the jersey won't, in itself, make you ride like a champion, but stylish looks and robust construction make for an excellent start.
Technically brilliant it wicks sweat well and sits incredibly comfortably with rubberised taped seams at the rear waist to ensure it doesn't ride up when you ride out. Three pretty generous back pockets for a wealth of power bars and gels could be improved only slightly by the addition perhaps of a zipped valuables pocket, the lack of which is probably testament to the fact that it was designed for a team unlikely to need such niceties.
If you're in the market for a great quality warmer weather jersey that's relatively gentle on the wallet (online prices from around the £50 mark) and you like the fully-logoed look, then the ODLO SwissPower is hard to beat. Perhaps take a leaf out of Lofterød's book and make sure you're '…one step ahead'.