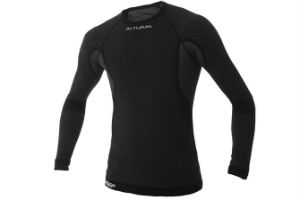 Arguably nothing beats natural fibres for pure comfort, but when it comes to outstanding man-made tech we haven't found better than the Altura Thrermocool Base Layer. This long-sleeve top – a blend of 73% Thermocool Eco (basically polyester), 22% nylon and 5% Elastano (Lycra) – not only fits snuggly without compromising movement, but comes close to being an on-board thermostat with an outstanding ability to keep the ride temperature regulated.
Fast drying, wicking away sweat from the skin and with a 10% antibacterial 'Body Fresh' yarn to deter bacteria and help keep ride-related stench at bay, the Thermocool's real secret to success is its variable knit 'body mapping technology'. Stripping away the sciency speak this basically means that the top is constructed with a range of fabric densities – a little like panels with a mesh-look – thinner along the sides and under arm, thicker across areas more prone to cold such as the back and shoulders.
Comfort is paramount, particularly when you're battling the elements as much as the terrain, and Altura have worked hard to ensure this top is almost second-skin comfortable. The fit is incredibly close – almost compression gear close – yet it moves completely fluidly with the body and with no side seams to irritate and the why-doesn't-everyone-do-this idea of embroidering the care instructions to the waistband rather than sticking in a flappy label the Thrermocool is as close to perfection as a base layer comes.
This is, by far, one of the most comfortable and responsive tops that Cyclo have ever had the pleasure of riding in. You'll stay warm when the temperature drops and cool when the heat is on – that, surely, is the point of a temperature regulating base layer; if only all manufacturers realised this simple truth.
The Altura Thrermocool Long-Sleeve Base Layer has an RRP of £44.99 (short-sleeve alternative at £39.99). Further details and retailer information at zyro.co.uk