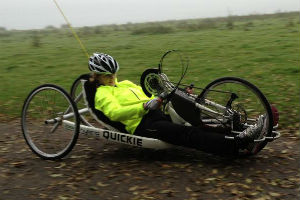 If you're looking for inspiration in 2013 Cyclo suggests you look no further than Claire Lomas. An accomplished equestrian, a freak riding accident in 2007 left her with fractures to her neck, back and ribs; she suffered a punctured lung and pneumonia, had to have a tracheotomy to help her breathe and was in intensive care for 10 days. The damage to her spinal cord resulted in paralysis with no sensation from her chest down, but determined to raise both funds and awareness of spinal injuries she tackled the 2012 London Marathon using a ReWalk robot suit – the extraordinary effort took her 17 days… For 2013 Lomas has another challenge in mind; Cyclo talked to her about the year ahead and her planned incredible charity cycle ride.
Cyclo: How soon after the London Marathon challenge did you know that you wanted to do something further to raise both funds and awareness?
Claire Lomas: Only a few days later. The support I got was unreal and it has made me want to do more to raise vital funds for research, but also to inspire others to get cycling or to keep fighting when faced with difficult times.
Cyclo: Was your first thought to tackle cycling as the next challenge?
Claire Lomas: Yes, I thought it would be very different to the Marathon, which, although it was demanding physically, was more so mentally. But with the cycling I will need to be physically fitter.
Cyclo: The initial idea was to cycle to/through France but the plan ran into logistical problems…
Claire Lomas: Yes, fundraising over there was going to be difficult…
Cyclo: So How did the new UK route come about?
Claire Lomas: We wanted to cover 400-500miles – it varies from day to day, but approximately 20 miles a day – we planned a route visiting many towns and cities in England. It was quite hard to plan as there were so many places I would have liked to visit; but being fairly central makes it easier for people to join us including celebrities!
(Details of the route will be on the website as soon as they are finalised)
Cyclo: You're planning on giving a number of talks and presentations along the way – what's the schedule like for that?
Claire Lomas: I am going to do approximately two talks a day, which will be as challenging and tiring as the cycling, in fact sometimes I may feel the bike is a rest! I'm calling at schools for children with disabilities, primary schools, secondary schools, injured servicemen recovery centres…
Cyclo: You're planning on using a combination of handcycle and FES (Functional Electric Stimulation) bike?
Claire Lomas: Actually I'm now using handcycle 100%. I'm in the process of sorting the bike at the moment. I plan to do a separate challenge using the FES later in the year.
Cyclo: What's your training regime like?
Claire Lomas: I train five times a week and I'm increasing my miles at the moment and have made it as far as15miles. The hills are tough and my training is generally hilly! What will be hard with the challenge itself is that it is every day for three weeks, plus lots of presentations!
Cyclo: Diet will be important too, any special changes to that for the challenge?
Claire Lomas: I will have to make sure I eat the right things to keep my energy levels up of course, I don't want to fade – especially when I am suppose to be doing talks to inspire people!
Cyclo: Will you have a support team with you along the way?
Claire Lomas: Yes I will have a team with me. I hope to have my physio with me some of the time, and family and friends when they can.
Cyclo: Can you tell us about Spinal Research and Nicholls Spinal Injury Foundation, the two charities you are raising funds for this year…
Claire Lomas: They are both working towards a cure for paralysis and making great advancements. A spinal injury can happen to anyone at anytime, often young people. It changes your life in a split second. I feel lucky to have use of my arms; a lot of people are paralysed from the neck down. It also effects so much more – circulation, temperature regulation, blood pressure, sensation, movement, digestion… A cure needs to be found.
Cyclo: How can people get involved?
Claire Lomas: As with the Marathon I would love people to come and join in for a day of #clairescycle. We will have great fun and we're getting a great group of celebs joining in too.
Any donations are appreciated of course and I'm also planning a pre #clairescycle training day at Rutland Water to raise money. It's 25miles of beautiful cycling, optional fancy dress and entertainment for kids. £5 entry…
Cyclo: Probably too soon to ask, but will this be the end or do you think there will be further charity challenges to tackle. 
Claire Lomas: Oh yes I am sure there will be more to come. I fancy giving Handcycling racing a go too!
Claire's challenge is scheduled to begin on April 22, full details including the Rutland Water training day, the route as it evolves and, of course, ways to both sponsor and support her can be found at claireschallenge.co.uk. You can follow her on twitter claire80lomas / #clairescycle