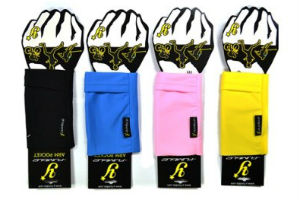 When jersey pockets are already overflowing there's a simple solution to extra storage space on the bike with the Y-Fumble. A simple, elasticated pocket that slips over the upper or lower arm, the Y-Fumble easily accommodates three or four gels for extra energy or holds keys, cash, mobile phones or MP3 players – although the latter isn't easily operated in place (but with safety in mind, probably not a bad thing…)
There are no fastenings to attach the Y-Fumble, so nothing to chafe or rub and everything is held in place by the integrated, elasticated flap so no zips or Velcro tabs need tackling when you need to get anything out. Getting things back in is another matter – it's simple enough to load the Y-Fumble and then put it on, but once in place putting anything away (one handed) is far from easy; in Cyclo's opinion this works best for gels, bars and the like – a one-way delivery system rather than a true substitute for a generous jersey pocket. Also, as the material isn't even remotely waterproof, stashing phones and MP3s is really only recommended when you can be sure of the weather.
Those caveats aside, we've found this useful (if not quite indispensible) on the ride and at £6 it's worth the punt even for occasional use. Available in three sizes and four colours – blue, pink, black and yellow – only the latter option really offers any additional visibility bonus and the inclusion of some high-visibility trim and detail across the whole range would be welcome.
But online at shop.fitbrands.co.uk