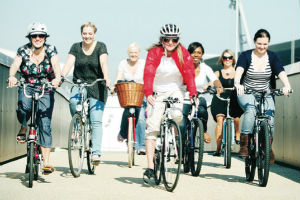 The national governing body British Cycling has launched its campaign to encourage a far greater take-up of cycling, at all levels, by women. Announcing plans at the Department for Culture, Media and Sport – in the esteemed company of Becky James and Jess Varnish – the plans, supported by almost £70m in government funding over four years, should see one million more women cycling by 2020 in addition to greater representation within coaching and official positions.
Outlining the challenge ahead in their publication A Journey of Inspiration and Opportunity, British Cycling highlight the fact that only one in four once-a-week cyclists are women, one in five of cycle sport participants are women and a somewhat woeful one in seven British Cycling members are women.
The goals for the scheme include getting 'more women cycling more often', particularly through participation in schemes such as Breeze and Sky Ride, 'creating opportunities to ride and race', which will include establishing a series of entry-level races at 'key facility hubs', and getting 'more women running the sport' by growing the number of opportunities for women to become coaches, volunteers, leaders, officials and tutors.
For further details and to read the online version of A Journey of Inspiration and Opportunity see britishcycling.org.uk