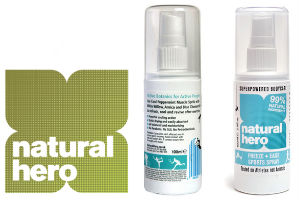 There were two things that made us want to take a closer look at the Cool Peppermint Muscle Spritz from Natural Hero: First, we are told (by the makers) that it's incredibly popular with cyclists and second we love 'natural' products and this one claims to consist of '99% natural ingredients'. So, what does it do? Is it any good? And can we forgive it that 1%?
The Cool Peppermint Muscle Spritz, which comes in a 100ml pump bottle, is intended for spraying onto aching muscles either during or post-exercise to provide an instant cooling effect, which gives way to a gentle warmth through the treated area. It achieves this through a blend of botanical extracts including peppermint (natch), white willow, arnica, witch hazel and blue chamomile – whilst the carrying agent (a natural alcohol denant) also adds to the initial cooling as its rapid evaporation leads to a drop in skin temperature. Looking at the other active ingredients in order: peppermint essential oil can reduce inflammation (and smells good), willow – in the form of bark extract – is an astringent, which will cause mild skin contraction, arnica has proven efficacy as an anti-inflammatory, witch hazel is a toner, and chamomile is another anti-inflammatory. Phew…
If you're wondering about the 1% of synthetic ingredients: menthyl lactate is a common cosmetics 'cooling agent', potassium sorbate is a preservative (E number 202) and ascorbic acid (actually a form of vitamin C) is utilised as an anti-oxidant in the spritz. Nothing to worry about here and the other 99% is more than commendable.
Does it work though? The short answer is an unequivocal yes. The cooling effect was instant and quite intense shifting, after a few minutes, to a background warmth that lasted in excess of half an hour. Perhaps not strictly for use as pain relief, and, as it evaporates so quickly (an essential part of the cooling mechanism), it lacks the advantage of being compatible with massage. But for instant revitalisation with tangible soothing results that eased muscle tension this is an undeniably useful product that deserves to find its way into the bag of tricks for post-sportive or intensive training session. Cyclo would love to see a mini version – say sub-50ml – that could tuck into a jersey pocket…
Cool Peppermint Muscle Spritz from Natural Hero is available for £11.99 from naturalhero.co.uk