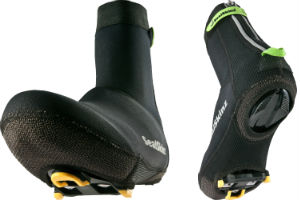 For years SealSkinz have been the go-to manufacturer of waterproof apparel; their gloves, hats and socks have kept a generation of ourdoors-types safe from the elements and the only thing really missing for cyclists has been overshoes. That is all about to change with the launch in July of the highly anticipated and long-overdue SealSkinz Waterproof Overshoes – Cyclo got a first look at these and put them to the test. Did they live up to expectations?
Initial impressions were of a truly substantial looking overshoe – as tough as the kind of rides we like to take – constructed from a medium-thickness neoprene material that near-recalled a scuba boot. At the ankle a close-fitting, but not restrictive, silicone leg gripper is included to help keep everything rock-solid in place and ensure water doesn't enter from the top, whilst the openings for cleat and heel appeared snug and featured Kevlar (which also extends to the toe) for added toughness and to prevent abrasion.
Available in S, M, L and XL; Cyclo was testing the Large which pulled on easily over the shoes (UK size 9 Specialized BG Comps) thanks, in part, to the pull-down loop – the kind of attention to detail that makes all the difference, particularly when kitting up in cold weather and with numb fingers. The heel-to-top zipper, with reflective tab, all tucked away neatly behind the integrated storm flap – which, as the name suggests, further keeps weather at bay – and final adjustments were made with the adjustable Velcro ankle strap.
Cleating in for the first time proved initially tricky. The closures around the cleats are very snug – a necessary feature of such complete attention to waterproofing – but with practice this became easier and a slight amount of 'give' (not enough to worry about long-term we felt) also meant the task became less of an issue. Riding in both wet and near-freezing conditions we repeatedly found that the SealSkinz Waterproof Overshoes performed to – probably even beyond – our expectations; warm(ish), dry feet at the end of a long late-winter ride is always something to aspire to and the Sealz certainly helped deliver that.
We had expected good things from the SealSkinz Waterproof Overshoes and good things we got. When launched they will retail at £30 – comparable to something like the dhb Extreme Weather Overshoe – but for our money looking set to compete with the likes of the Castelli Estremo, just at a third of the cost. Sealz will also be launching their Lightweight Waterproof Overshoes specifically for MTB, Cyclo will bring you a review soon…
Once launched in August full details of the SealSkinz Waterproof Overshoes will be available at sealskinz.com – to read the Cyclo review of the SealSkinz Waterproof Thin Socklet click here.
This review, in adapted form, is also published on our sister site TriGear.co.uk