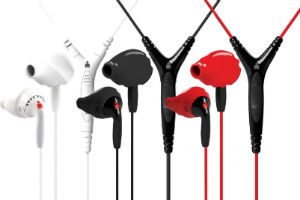 Okay, here comes that thorny and divisive issue of listening to music whilst cycling again. If you're of the ultra-safe persuasion it's a clear no-no, and arguably with excellent reason, but if music helps you through the ride and you're prepared to take your chances then perhaps the Yurbuds Inspire Pro Headphones would make for a sensible option?
Coming in at the top of their range the Inspire Pro features the Yurbuds 'TwistLock Technology' to keep them in place; in practice this means you plug the bud into your ear and rotate by 90degrees securing it behind the antitragus (the sort of sticky-uppy-bit in your ear). The fit is incredibly snug and, thanks to the soft silicone coating, comfortable – moreover, the chances of accidently tugging them loose is next to zero.
From a safety point of view the Yurbuds Inspire Pro Headphones deliver what the manufacturers call 'Ambient Noise Awareness' – this means that, despite the excellent fit, a degree of ambient sound is still channelled into the ear making for a greater awareness of the surroundings (and potential hazards.) The system works well enough – it certainly doesn't deliver the safety level of using bone-conduction technology such as that used by AfterShokz Sportz (see the Cyclo review here), but is infinitely better than just plugging the ears completely. On the downside of the ambient noise system, we found that cycling with a direct headwind caused a cacophonous noise akin to holding a seashell to your ear on a particularly windy beach…
The sound quality is certainly more than acceptable, the 15mm dynamic driver delivered admirable mid- and top-range with only the bassier elements sounding slightly muddy. As we expected, the audio was far crisper than bone-conduction options, but that's the nature of the tech and a clear trade-off between quality and safety. Either way, exceptional audio experience is hardly the thing you would expect (or really need) on the saddle.
For iPhone/iPod users another benefit of the Inspire Pro is the in-line 'dry-mic' control which allows not only for volume adjustment, but track skipping, pausing, and call taking (once you have halted the bike of course.) They also work with Siri – although in Cyclo's experience even Siri doesn't work with Siri…
Are the Yurbuds Inspire Pro Headphones really a safety item? Of course not; but safer than blocking your ears completely. So if you like getting miles under your wheels whilst listening to music – or screening your calls – these are a solid option, with decent audio performance and a pretty much rock-solid guarantee that they won't fall out.
The Yurbuds Inspire Pro Headphones carry an RRP of £60 and are available from, amongst other places, Wiggle.co.uk – more information at yurbuds.com or take a look at the video below to see how the 'TwistLock Technology' works.