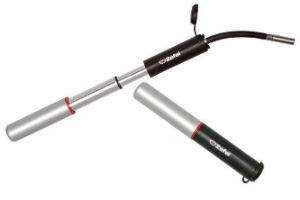 Zéfal have a solid reputation for both value for money and the quality of product that said money gets you. The Zéfal Air Profil FC01 is no exception to either of these rules, coming in at less than £20 and being solidly built despite the slightly plastic feel.
The thermoplastic construction is reinforced with an aluminium stem, meaning there is rigidity and muscle where it's needed most, and, thanks to the telescopic barrel, the Profil almost doubles its stowed length of 200mm when in action. This more substantial  'action-length' means that a pressure of 6bar (87psi) was easily achieved and a tyre, from flat, was fully inflated in less than 150 strokes. Cyclo found we hardly broke a sweat even squeezing in those final few strokes.
The connector is integrated – so we won't have to dump it with the dozens of other discarded pumps that have lost them – and switching between Presta and Schrader involved the simple unscrewing and reversing of the connector end. Flexibility is good to, so reduced chance of damage to the valve stem, and the connection itself felt rock solid. The chunkier design makes it (probably) more suited to MTB, as does the bike mount – with Velcro fastenings, which doesn't lend itself to bottle cage integration.
At 116g the Zéfal Air Profil FC01 is mid-weight and the extra bulk actually makes for a more comfortable grip and easier refill. A full five pounds cheaper than the similarly featured Topeak Race Rocket Master Blaster Mini Pump (£24.99) it's easy to see why Zéfal maintain such a good budget option reputation.
For further details and to find a retailer see zyro.co.uk or take a look at the video below (in French, but don't panic – subtitles provided…)