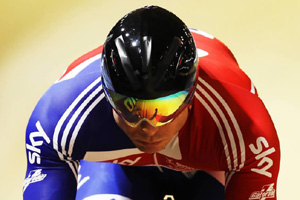 It came as no surprise yesterday that Sir Chris Hoy announced his retirement – BBC Scotland had widely reported the story earlier this week, well ahead of Hoy's planned news conference, which took place in Murrayfield, Edinburgh. The six-time Olympic Gold Medallist, the winner of new fewer than 11 world titles, was pragmatic in his analysis, saying, 'It's a decision that I didn't take lightly and I thought about it very hard. In sport at the highest level you are dealing in the smallest margins and you can tell when you are good but not good enough.' He continued to say that London 2012, at which he added two further Golds to his collection, had taken 'every last ounce of energy and effort' and that he felt that competing at next year's Commonwealth Games might simply be a case of 'making up the numbers'.
When asked about his status as Britain's greatest every Olympian, the ever-humble Hoy replied, '…to describe the greatest is subjective. To me, in my subjective opinion, Sir Steve Redgrave is the greatest in British history.'
In 2008 Hoy was voted BBC Sports Personality of the Year and knighted in the New Year's Honours list.