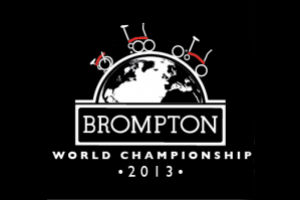 Brompton Bicycle has announced a new programme of events and activities to supplement the Brompton Treble – which is made up of three Brompton-only race events including the Brompton World Championship, taking place at Orbital Cycling Festival (Goodwood Motor Circuit) on July 27 and 28.
Rollapaluza have engineered specially modified rigs for Brompton roller racing, which will see racers going head-to-head and spin to win over 500 metres on the static bikes, whilst renowned street artist Zabou will be making a Brompton art installation over the weekend. In addition Brompton Afternoon Tea, a stalwart of Brompton events and free to all Brompton participants, will be serving up a very British cup of tea this year with tea supplied by Tregothnan, the only tea growers in Britain.
The Brompton World Championships themselves will see a host impressive prizes on offer with fastest male and female walking (riding?) away with the much-coveted Barcelona Brompton from a limited run of 500. Runners-up will be rewarded with goodies from Schwalbe, Berocca and Green Oil. Top positions in the team event will see team members receiving Brooks accessories, ranging from their lovely leather bags to saddles and grips. Nutcase will be rewarding the most dapper racers for the hotly contested Best Dressed prize.
The two other events which make up the Brompton treble – the Brompton Sprint and Brompton Eliminator – are sponsored by Jagwire and Green Oil respectively. The overall male and female winners of the Brompton Treble, who will have battled it out over all three events, can expect a more relaxing experience as part of their prize: a stay in a 5-star, hand-picked hotel courtesy of Mr & Mrs Smith.
For more information on the Brompton World Championship see bwc.brompton.co.uk and for details of the Orbital Cycling Festival visit orbitalfestival.com