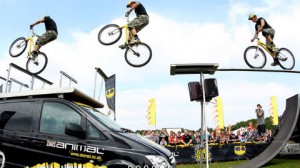 Running August 3 and 4 in the beautiful setting of the New Forest, The Early Riser Festival of Cycling and Music is set to attract revellers with its fresh approach to festivals that combines an intriguing mix of sportive (with 48, 76, 100mile options), short track mountain bike competition and pedal powered cinema and disco – amongst other two-wheeled attractions – with a strong line-up of music acts, from Brit-Pop legends Dodgy to Sadie and the Hotheads (fronted by Downton Abbey's Elizabeth McGovern). Lee Reynolds, festival organiser and founder of CycloFanatic, shares his goals for the festival with Cyclo…
CycloFanatic runs two successful sportives, The Meon Valley Riser and The New Forest Rattler. These events were started with the goal of delivering more than a cycling experience. Cycling is not just about the miles on the road, it's a lifestyle choice and we provide breakfast and a warm meal post-ride, giving cyclists the chance to get to know each other better and adding to the complete experience.
Based on CycloFanatic's philosophy that it's not just about the bike, I came up with the idea for The Early Riser Festival of Cycling and Music, while out on a ride. I have three loves in my life: my young family, cycling and music. I used to play in a band, organised small-scale gigs and then got into cycling. Combining the two and making 'kids king' is – to me – the perfect mix for a fantastic Great British summer weekend.
I felt that the New Forest was the perfect venue; it's an absolute Eden for cyclists, families and anyone who likes the great outdoors. Mountain bikers can lose themselves in the woodland, while there are some great routes for roadies (the Saturday morning Early Riser Cyclosportive will take riders on a stunning ride with a great mix of cycling). The camping facilities are perfect, whether you're a group of friends, a family or a couple and the Activity Centre has a whole host of adventurous activities from zipwire, to a climbing wall and even water-zorbing.
It's different to anything else out there at the moment and is the first festival to combine cycling, music and have an emphasis on children – we've even got acts such as Cbeebies Sid and Andy for the younger ones.
I also wanted there to be something for every kind of cyclist; roadies can join in on one of three routes on The Early Riser Cyclosportive whilst mountain bikers can compete in the Torq Short Track MTB Competition and Shoretrax are setting up some of their mountain bike tracks in the surrounding woods. But those new to cycling need not fear as Bikeability will be on hand to offer tuition. People can even learn the art of unicycling as Voodoo Unicycles will be there to teach the festivalgoers. In fact, almost any bike you can name will be there, and all available to have a bit of fun on. It's simply a celebration of one of the greatest inventions of all time.
So the location, teamed with the mix of different types of cycling for all abilities, a superb range of music, delicious locally supplied food and, most importantly, entertainment for the whole family is truly unique. What more can you ask for of a weekend?
For full details, book tickets, and to keep apace with the ever-expanding line-up of events and performers see earlyriserfestival.co.uk