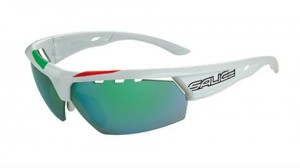 When it comes to choosing sunglasses there are many criteria to consider when investing – and given some of the prices around 'investing' is the correct term… Not least of these considerations is manufacturer credentials and heritage (not always failsafe as even the mighty Oakley have, in our opinion, occasionally missed a trick). Consider Salice, then; with almost a hundred year's of experience in producing quality eye-wear this Italian giant has reputation aplenty – how though do the new Salice 005 measure up?
If the name 005 feels less than inspired (something like Eye-Armour X2 always sounds so much harder working), Salice can perhaps be forgiven; it appears most of their effort has, quite rightly, gone into designing the actual glasses.
Beyond the aforementioned manufacturer's credentials there are a number of crucial points to consider when picking new glasses. Firstly: pure aesthetics. Horses for course and no one design is going to be to everyone's taste, but in our opinion the 005s look damn look; available in a positively phantasmagoric array of colour combinations and lens types. Cyclo was testing Salice's trademark ITA design that hints at the country's tricolore with green, white and red flashes across the upper front frame; a full wrap, with elegantly tapering arm, they manage to look good without seeming to try too hard, with the added benefit of not appearing overly engineered or unnecessarily fussy. 'Simple and elegant' is perhaps the reductive way to put it.
Moving on to comfort. The Salice 005 aren't exactly featherlight, but weighing in at less than 30g and with a flexible, adjustable nose piece they sit perfectly comfortably with generously large rubberised grips on the arm ends keeping them securely in place. The frame and lens curve is such that even those with the lashes of a cow shouldn't experience any close-call discomfort and although they lack the multi-flexibility that gives some maker's glasses an almost bespoke feel the overall level of comfort is more than adequate.
Polarized and photochromic lens options are available, whilst Cyclo was testing the more workmanlike mirror options. With to-be-expected 100% protection against UVA, B and C rays, these antiglare lenses performed admirably even riding into setting sunlight, with contrast strong and negligible image distortion even on the very periphery of vision. Unlike the 006 iteration, the Salice 005 features two individual lenses which, with triple-vents to the top and semi-open aspect to the sides, failed to fog even on our hottest test ride. The lenses are interchangeable (they ship with clear, low-light appropriate options for when you just need a 'windscreen for the eyes') and snap in and out effectively with little fuss or recourse to checking complex instructions. That alone is refreshing and makes them worthy of recommendation.
The ITA design with mirror lens ships at £69.95, whilst the transitional photochromic option costs £74.95 and the polarized £84.95. The price-point, whilst hardly in the budget category, hits the mark dead on for the quality of both build and lens, making the Salice 005 a solid option that adds a dash of Italian dolce vita. Still a shame about the name 005…
For further details see: salice.co.uk