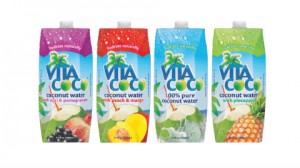 If you have attended almost any sporting event over the last few months – indeed almost any outdoor event – you can't help having noticed the presence of Vita Coco; pumping the kind of high-visibility on-site marketing into the 'natural hydration' market that Red Bull reserves for the energy drink.
The story goes that friends Ira Liran and Michael Kirban were talking to two Brazilian women in 2003 about what they most missed about their country; their answer, 'agua de coco' (coconut water) set Liran and Kirban on a course to bring it to market in the US – successfully achieved, on a small scale, along the East Coast the following year. A decade later and Vita Coco is sold in a reported 20,000 outlets globally. But how does it really stack up in the hydration department?
Served ice-cold it's certainly refreshing – it's ability to quench, we found, reduces exponentially with any rise beyond straight-from-the-fridge-temperature – but the real secret to Vita Coco is that it contains a balance of electrolytes very close to that of the human body. This means it hydrates 'in balance' in the same way that an isotonic energy drink does but, broadly speaking, in a much more 'natural' way. Both fat- and cholesterol-free, the original Vita Coco, contains just 0.02g of sodium and 5g of carbohydrates – the result a small quantity of added fruit sugars – per 330ml serving.
It probably goes without saying that Vita Coco have diversified. There are now five additional flavours from which to choose: peach and mango, pineapple, orange, tropical fruit and acai and pomegranate. Of these, none but the acai (a 'drupe' from the palm of the same name) and pomegranate truly tickled our taste buds; we found them a little insipid and certainly no improvement over the original pure coconut variety. Acai and pomegranate was another matter; an unusual taste with a surprisingly pungent – but pleasant – smell, this could well be our post-ride drink of the summer. Of course the extra fruit also adds to the carbohydrates – typically an addition 1g, hardly worth worrying over.
So, certainly not all varieties to out taste (they may well, of course, be to yours) but the choice of a truly natural hydration solution appeals immensely when the alternative is often overly-sugared, 'sciencey', sports drinks. Keep it ice cold and keep it natural.
Vita Coco is available in 330ml, 500ml and 1litre servings; Prices vary widely – try comparing 20,000 retail outlets – but for full details and list guide prices (and online purchase) see vitacoco.com