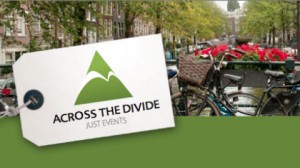 New to sportives or multi-day cycling challenges? The thought of challenging yourself on the bike can certainly be daunting, but with the right attitude, a dash of common sense and the correct preparation there is really nothing to fear in taking the plunge. Across the Divide is an events management company who run a number of cycle challenge events including London to Paris and the new for 2014 Costa Rica Coast to Coast and Death Valley Cycle Ride; Cyclo asked Steve Cooper, the company's UK Events Manager, to  smooth the nerves with these cycling challenges top tips…
Training: It is really important to develop a training programme and one which reflects the challenge you are undertaking, for example don't train for a road event on a mountain bike.
Start with shorter distances and build up over a number of weeks.
Get some back-to-back training days done reflecting the distances outlined in your challenge literature or itinerary.
Train on and with the gear you are going to be using on the event. Testing new kit 'on the day' can be disastrous.
Vary your training to avoid getting bored, swim, get down the gym, but be careful with running if you're new to it, you risk hurting ankles, knees and backs!
Whenever possible cycle in the terrain you are likely to encounter – if you know there are going to be hills do some!
Try and train with someone else – company always helps.
The weather shouldn't be an issue, don't wimp out in the wind or rain.
Don't over train – keep something back for the event itself.
Similarly, test for a few days immediately prior to the event – make sure you have something in the tank.
The Bike: It wouldn't be a cycling challenge without one, so get to know it and, hopefully, love it. You are potentially going to spend a lot of time on your chosen machine, so making the right choices is an essential part of being prepared.
Make sure you have the right type of bike for the event you are undertaking. Talk to the event organisers, take advice.
You don't have to spend thousands to get a great bike, shop around, do some research and remember if your legs aren't up to it, it doesn't matter how much you spend.
Get properly fitted for a bike and insist on a test ride – any half-decent bike shop will always let you.
Cleats/SPD's help your riding but train with them well before the event.
Get the bike properly serviced a couple of weeks before the event.
Although most events have plenty of mech support, make sure you at least know the basics of maintenance – fixing a flat at the very least.
Clothing and Apparel: You don't have to spend a fortune – there are plenty of decent budget brands out there – but having the right clothing makes all the difference to comfort and, consequently, performance on the bike.
Train with the clothes you are going to use on the event, particularly your cycling shorts!
Bring plenty of spares – one for each day if you can afford it, nothing worse than putting on yesterday's sweaty socks and shorts…
Clothing should be fit for purpose, padded shorts are a real benefit, tops should be lightweight and be made from material that wicks moisture away from the skin.
Layering will keep you warm.
Bring a lightweight compactable (preferably High-Viz) shower/waterproof jacket.
Cycling Gloves protect the hands from impact and vibration – worth considering even for hot events.
Flip flops or sandals to give your feet an airing at the end of the day and can help recovery too.
Gear and Tools: It's not rocket science but it is bike science (or at least mechanics), so having the right tools and knowing how to use them is an important part of any bike challenge. Don't be daunted, there's almost always help along the way from either support crew or fellow riders.
Always bring a compact repair kit including a multi tool, puncture repair kit, inner tubes.
Any bike specific spares. Across the Divide always have qualified bike mechanics on our events, however we can't carry all known bike spares – spokes for example are not standard and can ruin a ride if they snap and can't be replaced.
Bike computers are great, but you don't need them on Across the Divide events, we are however happy for you to use them if you already have one and will happily supply GPX files. Always check with event organisers to see how much 'self navigation' (if any) might be required.
Lights for use in poor weather – and don't forget batteries.
A helmet, at Across the Divide the policy is 'no helmet, no riding' – the same goes for any event's company that takes safety seriously.
Food and Drink: Food is your fuel, without the right fuel you aren't going to get far. It doesn't have to be all about those 'specialist' bars and gels, a sensible approach to nutrition with 'real' food goes a long way. And hydration is absolutely essential…
2 x1 litre water bottles should do it.
In exceptionally hot conditions consider electrolyte (salt) replacement products – make sure you test ride them well in advance though as they don't all 'agree' with everyone.
Don't bring hundreds of energy bars and gels especially if you have never used them. They can upset your tummy and are an acquired taste. Across the Divide provide food at pit stops and will be sufficient to keep your hunger pangs at bay. Check carefully with event's organisers to see what catering is included.
Drink plenty – keeping yourself hydrated is vital. Dehydration can end a race quicker than a flat. But also be aware of over hydration, which can be just as event-limiting (and dangerous). There's plenty of advice online about good hydration strategies – read it and follow it!
And Finally… Turn up on time to the start of your event – nothing worse than missing out or playing catch up. Across the Divide always provide event manuals with all you should need to know about a specific event – any reading materials you are given take the time to read them. If you train appropriately for your event, do some research, ask some questions you should minimise any stress and give yourself a great opportunity to complete a fantastic challenge and have some fun!
For full details on all Across the Divide events and challenges see acrossthedivide.com