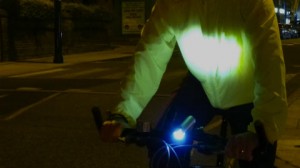 Cyclo always applauds attempts to make cyclists safer and more visible. Tudor Davies, a sound engineer, mainly working on TV programmes in and around London, would, it seems, agree. Having dreamed up various products over the years, he has now developed Lightrider, a unique approach to cycle lighting, which he feels has 'big enough potential' to devote the time and effort to bring to market. Currently seeking further backing via the crowd-funding network Kickstarter, Cyclo caught up with the inventor to talk about his latest 'bright' idea…
Cyclo: Tell us about the Lightrider? What makes it unique?
Tudor Davies: Lightrider is the only bike light in the world to illuminate the rider as well as the road ahead. Most cyclists these days are concerned with being seen at night, and yet all they can do about it is shine a light forward, that actually does a good job of making you, the cyclist, disappearing. A hi-vis jacket in the dark is black, it needs a source of light to reflect, so the best solution is to provide your own source.
Cyclo: The idea came from personal experience?
TD: Yes, I was driving home from work one night and waiting at a t-junction to pull out. I was just about to move when a bike flashed in front of me, I nearly hit it. As I carried on my way I was surprised to realise that this cyclist had both lights on, and a hi-vis jacket, but I didn't see him… Why?
Cyclo: So, a true inventor's 'Eureka' moment?
TD: Indeed, I realised they needed their own source of light, so at that critical moment when another road user is looking out for you they see the form of a cyclist, rather than another small light on the road. I went home that night and wrapped some tin foil round a torch, to create the all-important hood, which protects your night vision. I taped it on my bike facing back towards me and switched it on. My chest was illuminated, but I was completely unaware of the light myself because of the tin foil hood. Eureka!
Cyclo: What research did you do?
TD: I got a survey from the department of transport that confirmed that 80% of bike accidents are from the front or side of a bike. This proved to me that most of the time drivers didn't see the cyclist coming towards them.
Cyclo: What stage of development are you currently at?
TD: It's taken 2 years to make this design. It's currently in the final stages of tooling in China and the packaging is being completed.
Cyclo: Why turn to Kickstarter rather than more traditional means of funding?
TD: Kickstarter is also a good way of getting your product noticed and launched, it's a win/win for everyone, although we still need more fund to reach our goal!
Cyclo: Would you look to partner with an established manufacturer – either at this stage or further down the road?
TD: That's actually what we have done. We realised we needed some experience in getting the light made, so we have employed Oxford Products to help bring Lightrider to market. Their experience and contacts have been invaluable.
Cyclo: When this goes into production are you looking to market and retail this yourself?
TD: Yes, we have a sales manager who will be dealing with sales and Lightrider will appear on a number of Internet sites. We will also start looking into finding various distributors in the UK and Europe.
Cyclo: What's the next step for the Lightrider?
TD: We will be launching with two models, an AA battery and USB rechargeable version; both also available as a rear set. We then plan to extend the range with accompanying hi-vis Lightrider jackets and other accessories.
Cyclo: So other products are already in development?
TD: Oh yes! Our patent covers the whole concept of illuminating the front torso of a rider- so watch this space!
For further information on Lightrider see lightrider.co.uk and for funding opportunities and to get involved see kickstarter.com