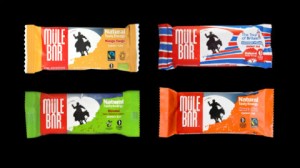 An energy bar with impeccable organic and Fairtrade credentials, an energy bar highly rated by top athletes (including many Tour de France riders), an energy bar that tastes great. Most manufacturers would rest on their laurels if they could tick just one of those, not so Mulebar who seem determined to go the extra distance on all counts. So how do the MuleBar Energy Bars stack up?
Variety is key when it comes to getting adequate nutrition on the ride and MuleBar offers a choice of seven unusual flavours: Liquorice Allsports, Pinacolada, Mango Tango, Summer Pudding, Apple Strudel, Hunza Nut and Jimmy's Choc Orange – intriguing, no? We found all but the Liquorice Allsports both tasty and true to description (different strokes, etc. and you may well love the Allsports too), and crucially, so as to avoid hydration issues, the bars are moist and easily digested without recourse to the bidon.
Not only do these taste like real food, they're made from it too and the company is committed to introducing further organic and Fairtrade ingredients as they become available – want more 'green' credentials? Some of the wrappers are decompostable (and more will be soon) and the company is signed up to the '1% For the Planet' scheme where 1% of sales goes to a network of more than 3000 approved environmental organisations worldwide. Nice to know that something fuelling your ride is also helping protect the planet…
Nutritional values natural fluctuate between flavours but to take Summer Pudding (our flat-out favourite) as a fairly typical example a 56g bar serves up: 187Kcal, 38g of carbs (29g of which are sugars – most of which from the fruit ingredients), just 3g of fat – 0.4g saturates – and 3g of fibre for good measure.
There is, of course, a growing move towards all things natural – even organic – but MuleBar are far ahead of the game when it comes to variety and taste. Summer Pudding will fuel us through the next few months and when the weather changes we'll gladly switch to Hunza Nut. Or Apple Strudel. Or Mango Tango. Or…
MuleBar Energy Bars are available at mulebar.com with boxes of 12 are £19.00 and boxes of 24 £38.00