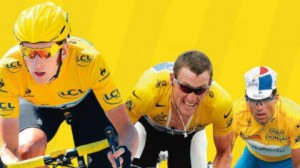 Few cycling journalists have enjoyed a career as long and esteemed as that of William Fotheringham; since joining the Guardian in 1989 he has established himself as a writer respected not only by the lay-reader but by the Grand Tour participants – he is undoubtedly as 'riders' journalist'.  Racing Hard, published by Faber and Faber, brings together what might be considered the definitive collection of tales from the front line of pro-racing, which, taken together, becomes something of a meditation on the changing face of the sport over the last two decades.
Whilst Fotheringham's newspaper features can, at times, feel a little cold or detached (he is after all a great analyst), as an anthology of work they are transformed somehow into something greater – something in which a true passion shines through. The original articles are annotated and noted for context and this lifts the entire book to one that chronicles the lives – and races – of the great and the good in a way that positively glows with admiration. There is, of course, much scandal and controversy covered here (none of it salaciously presented) and Lance Armstrong looms large – how could he not? But there is balance and wisdom too throughout Fotheringham's writing.
The forward to Racing Hard, by David Millar, not only sets out the regard with which Fotheringham is held, but encapsulates the span of his work; Millar writes: 'William has put my career into words, from an ambitious teenager to a fallen world champion to a fervent anti-doping campaigner, team owner and father.'
Those that know and love Fotheringham's work as a journalist or author (read the review of his book Merckx: Half Man, Half Bike here) will naturally gravitate towards Racing Hard; but hopefully it will also bring his words to those unfamiliar with his prolific output and earn him yet more dedicated followers. He's worked long and hard for them…
Racing Hard (ISBN-10: 0571303625) is published by Faber and Faber, RRP £12.99 paperback and currently on Kindle offer at just £1.59 from Amazon.co.uk
For more book reviews from Cyclo click here.