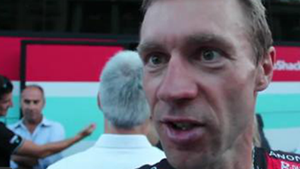 Jens Voigt, possibly the funniest man on two wheels, was supposed to retire at the end of this year. He's now suggesting that, having offers from other teams, he could race for one more season. 'I have three concrete offers from Sky, Saxo Bank and also from RadioShack,' 41-year-old Voigt told the dpa agency. 'Maybe I will stay there.'
Although it's hard to see where Sky have a Jens shaped hole, a move to Saxo would be intriguing. Voight moved from Saxo, where he raced for six years, to Leopard Trek (now Radioshack) in 2010, with Frank and Andy Schleck and Fabian Cancellara. A return to Saxo would mean a role supporting Alberto Contador, a task he once deemed 'difficult' due to the animosity between the Schlecks and the Spaniard. Either way the Grand Tours are set to soon lose the most charismatic rider to grace the Peloton in the last 10 years.
One factor that may be an influence is his excitement about the relatively new RadioShack Nissan Trek project. Despite what he admits was a 'bumpy start' after Johan Bruyneel's RadioShack team merged with the Luxembourg-based Leopard-Trek outfit in 2012 the team has hugh potential. That's if they can get the best from Fabian Cancellara, American Chris Horner, German all-rounder Andreas Kloden and one, or both, of the Schleck brothers. Although in his seventeenth year in the peloton, Voigt's consideration may center around his statement in 2012 '…enormous strength in depth. I'm looking forward to some spectacular races we're going to do this year.' Despite relative failure in the TdF the team is still among the best of the rest. For a 41 year old the best option might be to stick with what, and who, you know.
Here's a reminder of makes Jens so special.