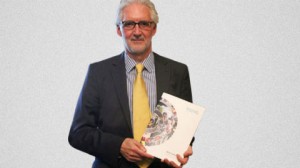 This September could see a mayor sea change at the very highest echelons of international cycling – a time, that in years to come, might be looked back upon as a true 'fresh start' for a sport whose history is so tarnished by revelations of drug abuse and doping. Whilst Pat McQuaid has held the position of President of the Union Cycliste Internationale (UCI) since 2005, his often-reticent position on doping and faltering stance on transparency within the organisation has led many to believe that the time is right for a changing of the guard. The only man standing against McQuaid in this two-horse (bike?) race is Brian Cookson OBE; Cyclo takes a look at the man and his mission…
Born in 1951, Cookson was a club-level cyclist across road, track, cyclo-cross and mountain biking and a regional Road Champion (1971) to boot. He was a UCI International Commissaire from 1986 until 2009 when he became a member of UCI Management Committee and President of both the UCI Cyclo-Cross Commission and Road Commission. Aside from his work with the Union Cycliste Internationale, and perhaps more crucially to what he will bring afresh to the Presidency, Cookson has been President of the British Cycling Federation for some 16 years. Under his leadership GB's governing body has gone from near-bankruptcy to the envy of the world with 19 Olympic Golds, 28 Paralympic Golds, innumerable road, track, BMX and MTB medals for the likes of Cavendish, Hoy, Pendleton, Kenny and Trott. Not to mention two Tour de France winners in the shape of Bradley Wiggins and Chris Froome.
Having announced his intention of standing against McQuaid, Cookson revealed his broad-stroke manifesto – entitled 'Restoring Trust, Leading Change' – in Paris on June 24. In a far-reaching and ambitious statement of intent Cookson committed to strengthening anti-doping measures, rebuilding trust in the UCI as a governing body, growing the global profile of the sport whilst developing women's cycling and overhauling the World Tour structure.
Anti-Doping
On the issue of doping Cookson says '(it) has robbed our sport of its credibility too many times…' and he underlines the importance of true independence for an anti-doping unit. Crucially for the credibility of the UCI he will also look to end what he calls the 'public feuding' with WADA (World Anti-Doping Agency) and the other national agencies that has led to so much public laundering in recent years. In what is perhaps the first step towards reconciliation with WADA Cookson is fully in support of the agency's proposals to increase the length of bans from two to four years for doping offences.
Transparency
For years the UCI has done itself little favour in the public eye with its behind-closed-doors mentality and reluctance for plain talk, making it a permanently teetering house of cards. Amongst Cookson's plans for a reboot are the publication of the President's remuneration and potential conflicts, an independent investigation into UCI corruption charges and, with possibly the most far-reaching potential, riders' representation on the UCI board which will see increased roles for the UCI Athletes Commission and Professional Cyclists' Association.
Global Growth
The 'I' in UCI does, after all, stand for 'International' and Cookson's eye is very much on the global stage with plans to establish an International Development Department, properly funded and structured to roll out 'best practices' to satellite projects and join up the dots thus-far left dangling. As well as looking to support increased para-cyclist events internationally there is also a commitment to work with the IOC (International Olympic Committee) to increase athlete quotas and champion the return of both individual pursuit and the points races.
Women's Cycling
The many inequalities in women's cycling have been brought to the fore in recent months by the campaign by the likes of World Champion Emma Pooley, Dutch superstar Marianne Vos and World Ironman Triathlon Champion Chrissie Wellington to reintroduce a Women's Tour de France. Whilst Cookson doesn't mention the TdF specifically he does pledge to: 'create new opportunities for women's cycling? in all disciplines, particularly the professional road scene…' and, crucially, acknowledges how vital the role of broadcast media coverage is for long-term success. With a further pledge to fully integrate women into every level of management within the UCI – including 'at least one woman on every UCI Commission' – we could, finally, see meaningful moves towards equality in a sport that has so many shining examples of female athletes.
Overhauled Road Racing
This is perhaps more 'nuts and bolts' and less headline grabbing than other areas of the manifesto but creating a more 'compelling narrative' through the UCI calendar, with less direct emphasis on the big individual events, will certainly help drive the future of the sport. By making the events calendar more linear it will demystify proceedings and help bring cycling to a wider fan-base.
Elections for the Presidency of the UCI will take place at the Annual Congress in Florence, in September. To find out more about Brian Cookson and to read his manifesto in full see briancookson.org – in the interest of balance 'other candidates are available.'