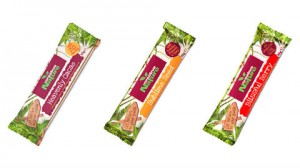 If you about what you put in your body (and frankly you really should) you can't help but have noticed the proliferation of natural-credential energy bars hitting the market recently. Now Creative Nature a young, ethical organisation established to 'promote health, creativity and respect for the environment' have launched Creative Nature 38g Bars. The bars come in four flavours – Blissful Berry, Heavenly Cacao, Sublime Seed and Tropical Treat – all cold pressed and using 100% natural and, with the exception of the seed bar, raw ingredients.
The Blissful Berry variety contains cranberry (an excellent source of polyphenol antioxidants) and goji berries along with apricots, pineapple and sultanas. There is a refreshing tartness to the bar that cuts through the sweetness and it delivers 122kcal with 27.9g carbs, just 0.1g of saturated and 6g of dietary fibre.
Heavenly Cacao is a mix of dried fruits including dates, cranberries and cacao (i.e. cocoa) in a blend of powder, nibs and butter – with a taste like luxury fruit truffles it's easy to forget that this bar is actually healthy. 132kcal per bar with 26g carb (just 14 of which are sugars, lower than the Blissful Berry) and – to be expected – higher saturated fats at 1.1g, still nothing to be concerned about.
Tropical Treat – the juiciest of the bars by far – blends pineapple and coconut, but it's the tang of raw ginger that comes through. 124kcal per bar with 24.5g of carbohydrates (13.8g from sugars), 2.7g of fibre and 2.8 of fat – 1.9g of which, the highest of the varieties, is saturated.
Sublime Seed, the only one of the four varieties we didn't much like, uses roasted peanuts, sunflower seeds and hemp protein to serve up 170kcal, 16.7g carbs and 3g of fibre. Although not personally to our taste, the bar is commendable in delivering a seed bar that is moist and easily digestible rather than being like something to hang in a birdcage. With 6.5g of protein in the mix it's also the most useful bar for post-ride recovery.
The range is an excellent addition to the natural energy bar market; good clean tastes, ample 'goodness' (two to three bars per hour for a hard ride – on par with most sports-specific gels) and with bountiful green and ethical credentials to back them up. Given their small, jersey-pocket-friendly size they definitely deliver; the Heavenly Cacao, for example, hits you with the same carbs as the much larger 55g, similarly marketed, Chimpanzee bars (see Cyclo review here).
Creative Nature 38g Bars RRP £0.99 and are available, from amongst other places, hollandandbarrett.com – for further information on the company see creativenaturesuperfoods.com