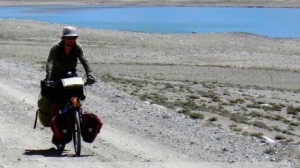 At the start of Every Inch of the Way, author Tom Bruce, explains that this is not a book, '…full of arty descriptions about beautiful places, it doesn't have any clever metaphors; it's just my story.' And so it proves to be – an everyman story (assuming said 'everyman' is capable of pedalling 14,379 miles) that covers the globe and proves how liberating two wheels can truly be.
Setting off in March, 2011 from his home in Cheshire, Bruce goes unsupported through Europe to Uzbekistan, Tajikistan, Kyrgyzstan and beyond to China before tackling the trans-American route to his end point – some nine and a half months later – Daytona Beach, Florida.
The beauty of the read is two-fold. Firstly Bruce is not setting out to break any records or prove anything about the human condition (though resilience, endurance and self-reliance are certainly discovered along the way) and, secondly, his story is simply told (as he promised it would be). There are no pretentions to the writing, no soaring similes or flights of poetic licence, just a good old-fashioned adventure yarn with the many people me meets and sometimes cycles with providing as much colour as the remote destinations. Bruce is as interested in people – and occasional beer ('beer tastes so much better after a day of exercise') – as he is in either cycling or proving his ability.
For cyclists Every Inch of the Way may well inspire; perhaps not an epic of these proportions but it's certainly hard not to read and then immediately want to take to the open road on nothing more complex than two wheels. Every Inch of the Way by Tome Bruce (ISBN-10: 148208306X) is available in paperback, £8.99, or on Kindle either illustrated at £6.98 or sans-photos at £4.99. Either way for pictures and for further information see tombrucecycling.com - buy online at Amazon.co.uk