During the Tour de France Cyclo was delighted to bring you daily works of art from Greig Leach, a one-time amateur club bike racer, participating in the DC and Richmond, Virginia areas of the US. He now combines his cycling passion with that of painting and he again provided us with his unique take on things during the USA Pro Challenge which ran this year between August 19 and 25. A mix of blistering action and some breathtaking scenery (and climbs) here is Greig's stage-by-stage interpretation of the USA Pro Challenge 2013. Enjoy…
Stage 1 – 'Feeling the Peleton' – Craig Lewis gets caught with a mere 5k to go. The Champion System Pro Cycling Team rider finished the day down in 99th place (2:30:59) despite a stunning series of climbs.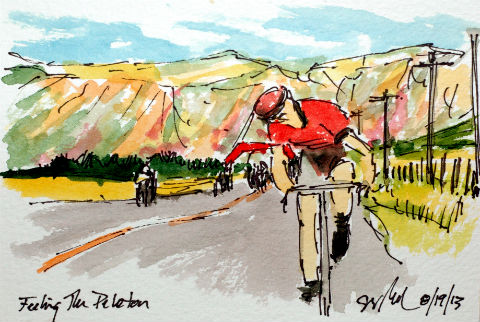 Stage 2 – 'Attacking the Final Climb' – Frank, Morton and Bontrager Cycling Team's Lawson Craddock – who would ultimately finish fifth – battle it out nearing the top of the final climb.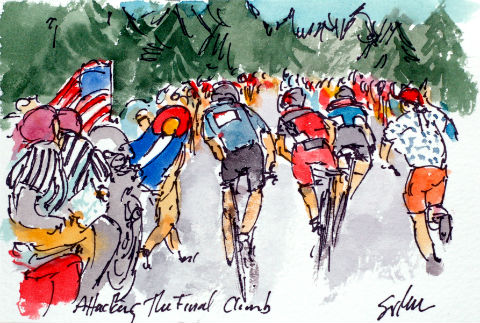 Stage 3 – 'Two out of Three Ain't Bad' – Peter Sagan scoring his second Challenge victory.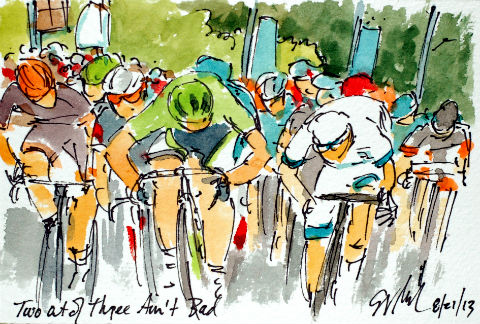 Stage 4 – 'Making Deals' – A deal is struck between Janier Aceverdo (Jamis-Hagens Berman) and BMC Racing's TeJay Van Garderen inside the final kilometer.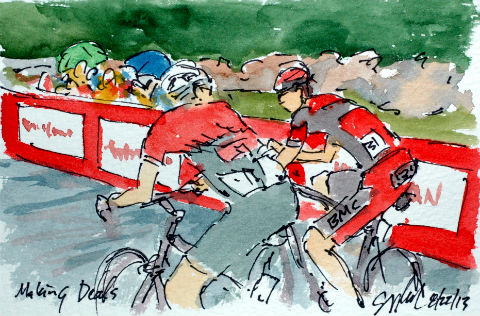 Stage 5 – 'Leading the American' – With around 3km left to ride TeJay Van Garderen gets an unusual escort…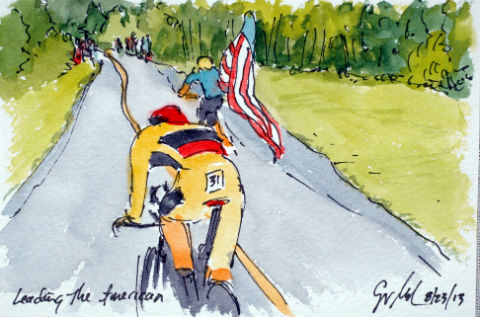 Stage 6 – 'Not Giving Up' – Javier Megias Leal (Team Novo Nordisk) tries to hold off the peloton in the last couple of kilometers in Fort Collins.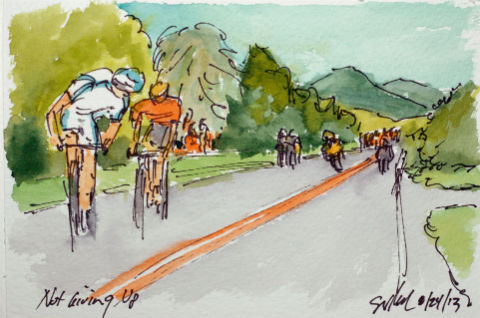 Stage 7 – 'He's Just That Good' – Peter Sagan takes his fourth stage of the USA Pro Challenge.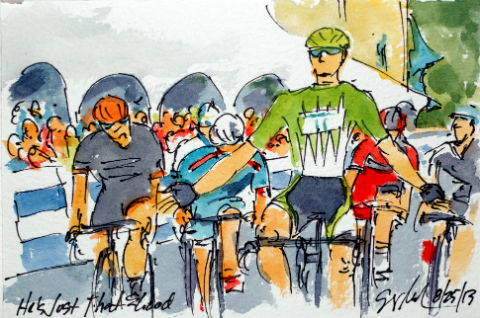 To learn more about the work of Greig Leach and for details of his substantial output from this year's races see greigleach.com and also theartofcycling.blogspot.com – he is sponsored by Richeson Art, and for an overview of all the work we have featured on Cyclo (including this year's Tour de France) click here.