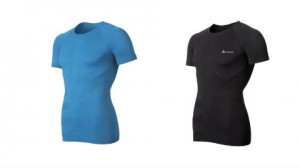 Just like the Columbia Total Zero T-Shirt (see review here) the Odlo Evolution Cool T-Shirt is not a dedicated cycling jersey – so no lumber pockets, rubberised hems and the like – but with Odlo responsible for supplying some impressive cycling apparel elsewhere and with the Evolution promising good thermal control Cyclo thought it more than worth a look…
Constructed from 100% man-made fibres (79% Polyester, 21% Polyamide) the Evolution is incredibly lightweight with thinner, meshed sections between the shoulder blades and under arm for venting. The fit is necessarily snug so that moisture (sweat) can be wicked away and this it does with impressive effectiveness even under test at near 30degrees.
Despite the close, almost second-skin feel the comfort level is good with a combination of ergonomic fit and 3D circular knitting tech (the same system used for the tubular construction of Buff Headwear), which removes the need for side seams. Unfortunately this is slightly let down by quite bulky arm seams, which we found gave some discomfort across the top of the shoulders once wicking sweat – something exacerbated by the fact that we were wearing a Camelbak for hydration during the test rides. Additionally there was a tendency for the top to 'ride up' at the back; a constant reminder that the Odlo Evolution Cool T-Shirt isn't specifically designed for the bike.
This is undoubtedly a well-made piece of kit and for warm recreational rides, possibly for commutes too, it works effectively in terms of both wicking and breathability. Arguably there's a place for this almost year-round too – as a thermal base you could find yourself layering with this right through the shoulder season months. But when it comes to pure temperature control the Columbia Total Zero T-Shirt is the hands-down winner…
The Odlo Evolution Cool T-Shirt has a RRP of £35.00 and is available in sizes S-XL and three colours: blue, white and black. For further information see odlo.com
For our review of the Odlo Trail Jacket see here and for the Odlo Swiss Power Jeresy here.