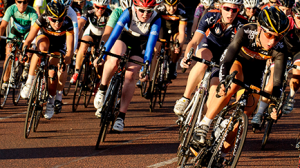 With cyclists taking over the streets of London this weekend the two day event Prudential RideLondon is on the finishing straight. With participant numbers exceeding expectations it been a roaring success. Here's a recap of the action over the four events so far.
On Saturday morning we had the FreeCycle, a turn up and go family ride. Held over an eight-mile traffic-free loop of closed roads around central London, the route takes in some of the city's landmarks, including the Tower of London and Buckingham Palace. The organisers hoped for 50,000 but early reports suggest it may have been 70,000.
Saturday evening saw the Grand Prix, a criterium featuring the world's best women, junior and hand cyclists on a 1.3 mile circuit in and around London's St James's Park. The main 15 lap event was won by Laura Trott after a brilliant lead out from WiggleHonda team-mate Dani King. Sadly Joanna Rowsell, also WiggleHonda, suffered a broken collarbone after a last lap crash.
Sunday morning saw the staggered start of event number 3 – the London-Surrey 100. Up to 20,000 amateur cyclists lined up for the 100-mile challenge. The route runs from Queen Elizabeth Olympic Park, on closed roads through central London and into the Surrey countryside. After looping back into the capital the race finishes on The Mall. The starts were between 06:00 and 08:00 and all riders are required to finish in under 9 hours.
Sunday afternoon  followed  with the 140mile London-Surrey Classic featuring 150 of the world's best road racers, with Peter Sagan and David Millar probably the best known. Similar to the 2012 Olympic Road Race the route is the same as the earlier '100' but with tree added laps of 'Leith Hill Loop' before rejoining the route through Dorking, Cobham and Kingston and finishing on the Mall this evening. You can follow the action live on BBC1.