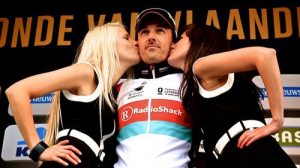 The sports marketing and event management company SweetSpot has won the right to stage a women's 'Tour of Britain'. British Cycling awarded the contract to the UK company despite rival bids from Giro and TdF organisers.
SweetSpot already manage the Tour of Britain, the pro Tour Series of city centre criterium and the Tour Ride sportives for amateurs. The women's tour will be a five-day event somewhere in May 2014 and will, they say, be covered by terrestrial television (presumably by current partners ITV4). In it's first year it won't be a true 'Tour of Britain' but a short series based in the east of England.
One winning part of the bid was to promise the same prize money that the men would receive. SweetSpot spokesman Guy Elliot says 'We will finish in town centers and pay the same prize money that Bradley Wiggins or Mark Cavendish would get,' adding that the event will be: 'The only cycling event in the world where women are not second best.'
Elliot believes that women's sport in general is short changed by being bolted on to men's events and this needs to change to: 'ensure it gains a greater profile but also so the social message is not diluted.'
All laudable stuff and although some detail is missing (sponsors, dates, routes, teams, etc.) we wish them all the best. We also hope his quest for parity extends to beefcakes on the podium presenting flowers and providing a peck on the cheek to the stage winner. He'd be doing us all a favor by highlighting how anachronistic this practice is and how it undermines women every day on the Grand Tours.