During both the Tour de France and USA Pro Challenge, which ran this year between August 19 and 25, Cyclo brought you the unique take on events by artist Greig Leach, a one-time amateur club bike racer, participating in the DC and Richmond, Virginia areas of the US. We're delighted to welcome Greig back with his work from this year's Tour of Britain. Enjoy…
Stage 1 – 'Punching the Air' – A wet start to the Tour, but it was a rider from the sunny climes of Italy, Elia Viviani, that took the opening sprint in the cold.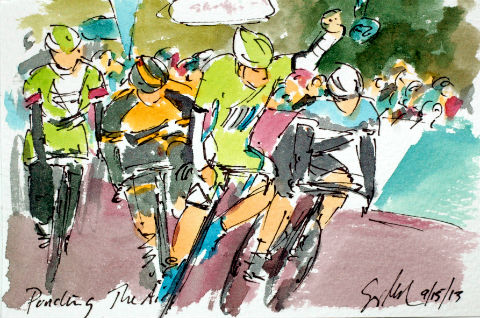 Stage 2 – 'I Know They're Back There' – Dan Martin and Nairo Quintana along with another Moviestar team mate, jumped away from the rest of the peloton on the final categorized climb of the day in hopes of repeating their exploits of the Tour de France.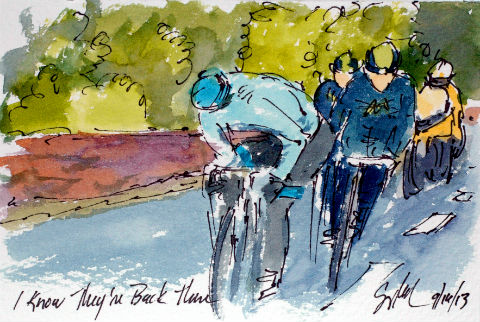 Stage 3 – 'Making the Catch' – The Individual Time Trial: Bradley Wiggins took the opportunity to reclaim the glory and form of 2012 along with the stage and ultimately the Yellow Jersey of race leader of the Tour of Britain.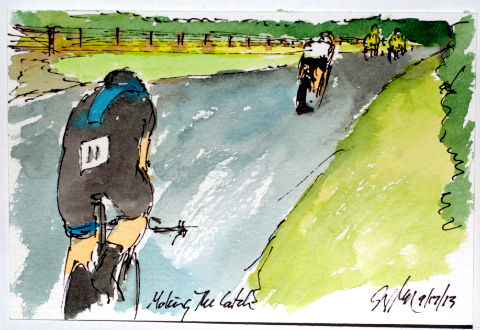 Stage 4 – 'One at Home' – Cav taking his first stage of the Tour wearing the British National Championship jersey.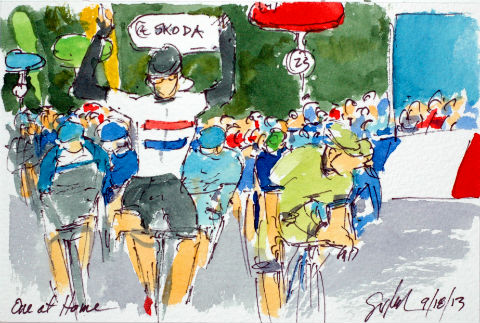 Stage 5 – 'Swinging Off' – Jacob Rathe, has just swung off putting, Angel Madrazo on the front as they fly past the council flats of Caerphilly and the final climb of the day.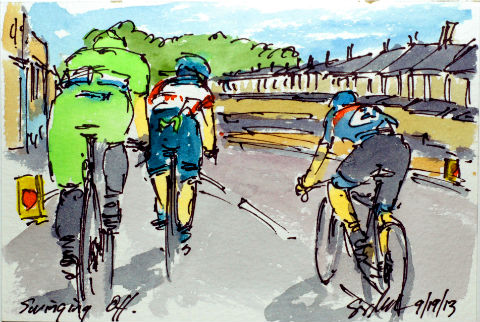 Stage 6 – 'Leaving Them All Behind' – Climbers as Dan Martin and Nairo Quintana ran out of gas when Team Sky sent Lopez after stage glory; but it was the local boy, Simon Yates that had the legs to go the distance on stage 6 in the county of Devon.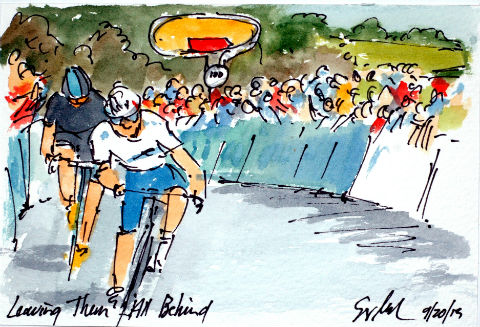 Stage 7 – 'Cav Takes His Second' – The title says it all as Cavendish take his second win of the Tour of Britain…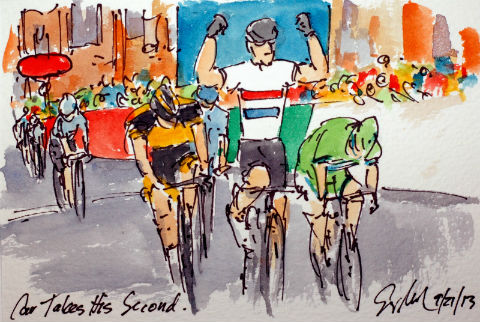 Stage 8 – 'Showing the Jersey' – Wiggins came into the Tour of Britain with the intention of winning the race and preparing himself for the World Championships. With all of the hometown fans lining the course he made sure to get out in front of the peloton and let everyone see the IG Golden Jersey of race leader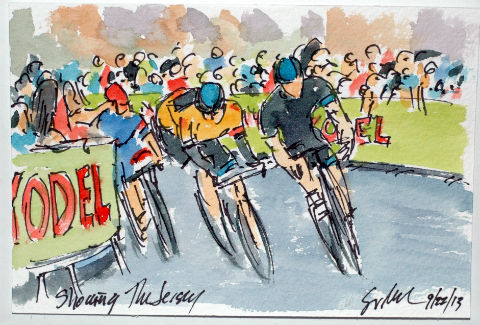 To learn more about the work of Greig Leach and for details of his substantial output from this year's races see greigleach.com and also theartofcycling.blogspot.com – he is sponsored by Richeson Art, and for an overview of all the work we have featured on Cyclo (including this year's Tour de France and USA Pro Challenge) click here.