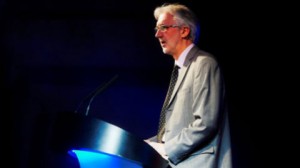 After a long and deeply acrimonious campaign, Brian Cookson has been elected president of the International Cycling Union (UCI), defeating Pat McQuaid who was seeking re-election for his third term. 61-year-old Cookson defeated the incumbent 24 votes to 18.
Brian Cookson has been in charge of British Cycling for more than a decade and a half, presiding over a complete change in the sport's fortunes that has seen GB win 19 Olympic and 28 Paralympic Golds and enjoy two back-to-back Tour de France victories. He fought his campaign for election at the UCI largely on the anti-corruption/doping and 'clean-sweep' ticket, with McQuaid easily portrayed as the old-guard, whose reticence when it came to transparency (let alone change) ultimately proving his undoing.
Speaking after his election at the UCI's Annual General Congress in Florence, Cookson said, 'It is a huge honour to have been elected President of the UCI by my peers and I would like to thank them for the trust they have placed in me today… I have said throughout my campaign that we must embrace a new style of governance and a collegiate way of working so that a new era of growth and commercial success for the UCI and our sport can begin.'
Immediately capitalising on his anti-doping stance Cookson continued, 'My first priorities as President will be to make anti-doping procedures in cycling fully independent, sit together with key stakeholders in the sport and work with WADA (World Anti-Doping Agency) to ensure a swift investigation into cycling's doping culture… It is by doing these things that we will build a firm platform to restore the reputation of our International Federation with sponsors, broadcasters, funding partners, host cities and the International Olympic Committee. Ultimately this is how we grow our sport worldwide and get more riders and fans drawn into cycling.'
You can read Cyclo's original election feature on Brian Cookson here.