Who knows what word today's kids are using to describe things that are 'cool' (sick? phat?) – it's entirely possible Cyclo has just made itself deeply 'uncool' by even posing the questions. Either way we agree with the Child Brain Injury Trust that 'wearing a helmet is a lot cooler than getting a brain injury' – and they should know as they help over 5,000 people a year affected by injuries that are often the result of road and cycle accidents. But how do you pick out children's cycle helmets that are cool/sick/phat? Cyclo took a look at two of the latest brands to arrive in the UK.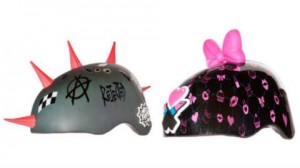 First up for test was the Raskullz & Krash range. At heart these are traditional cycle helmets (also suitable for skating, etc.), which feature a shock-absorbing EPS inner shell for protection, aerodynamic cooling vents and adjustable nylon retention straps for easy adjustment. What sets them apart from the norm is their adornments – for the younger children (4+) the Raskullz range features everything from dinosaurs to pink cat creatures and ladybirds, whilst for the older (7+) kids the Krash range keeps things exciting with mohawks, skulls, psychedelic swirls. All helmets feature substantial rubber 3D elements (cute ears and noses or blood tipped horns for example) that will certainly have the offspring standing out in the peloton.
The straps adjusted well and stayed put once fitted and our young Cyclo testers found them comfortable and light despite the additions, which on paper we had feared would add too much weight. They also found them 'fun' to wear (so we guess 'cool' wasn't the word we were looking for.) Regardless, these proved hugely popular and Cyclo was suitable impressed by the amount of fitting and safety instructions included too. The only further addition we might consider useful would be a foam chin guard around the strap clip because we've lost count of the amount of times our children have curtailed an otherwise enjoyable ride by pinching skin when putting on their helmets. Though it's possible we just have clumsy children around Cyclo HQ…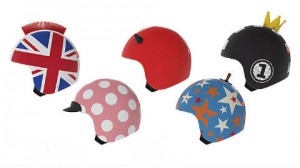 An alternative when it comes to 'fun' (as that's the word we've settled on) children's cycle helmets comes from EGG. Suitable not only for cycle and skate but also snow and water sports, the EGG is an incredibly solid piece of kit that allows for almost infinite configuration and personalisation. Pick a helmet – small at 48-52cm or medium 52-56cm, add a 'skin' – anything from union jacks (or union flags for the pedants amongst you) to daredevil 'dante' flames or Cath Kidston-style flowers then add 3D adornments such as horns, fruit stalks or mini-mohawks, which can be snapped onto the helmet even once on. With an ABS outer shell, a flexible EPP safety core, and an EVA comfort core the sandwich design offers maximum protection, whilst an integrated finger-press air pump adjusts everything for ultimate comfort.
Cyclo's mini testers adored EGG not only for their comfort (arguably they might suit slightly older kids as they are undeniably heavier than traditional helmets), but because of the amount of personalisation they offered. The only downside we experienced was trying to get children out of the door and onto the saddle when they just wanted to add 'one more' adornment… For adults that feel they are missing out on the fun, the manufacturers promise adult sizes coming soon too.
Raskullz & Krash helmets are widely available (RRP £19.99 – ££22.99) including from Argos, for further details and other product information see recreationltd.co.uk
EGG helmets are available online from (amongst other places) johnlewis.com, helmets £59.95, skins £12.95 and add-ons from £7.95 – further details at egghelmets.com
For further information about the Child Brain Injury Trust (Registered Charity No. 1113326) see childbraininjurytrust.org.uk