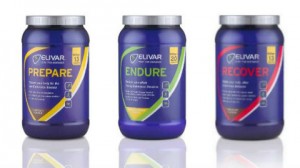 The sports nutrition market is a crowded one and barely a couple of months pass without a new contender fighting for shelf space. Elivar is the latest offering, claiming to bring something new to the mix with products aimed squarely at the 35+ age range.
Elivar is a complete three-part system for pre-, during and post-exercise (the Holy Trinity of sports nutrition) with unique blends to support the needs of older athletes, undoubtedly a smart move given the rise in numbers of so-called MAMILs (Middle Aged Men In Lycra) and equally their female, non-acronymed, equivalent. The range – Prepare, Endure and Recover – comprises of a variety of blended carbohydrates, proteins, vitamins and minerals that have been tailored to ensure that even during intense workouts and rides all bases are covered with fortification and the use of low GI (slow release) carbohydras.
Taking each in turn: Prepare, for use around 90minutes before exercise, uses a blend of fast and slow proteins – 27g per 65g serving – for muscle mass maintenance (and, in part, to begin the recovery stage even before training), combined with an equal quantity of carbohydrates, only half of which are sugar derived, 3.1g of fibre and vitamins B6 and B12 to aid the immune system. The flavour, chocolate, is perfectly palatable and the mix blended, we found, quickly and without clumps clogging our bottle, although retaining a slightly gritty texture.
Endure in Orange and Mango flavour – personally less to our liking, with a somewhat artificial aftertaste – is a 45g serving, which again mixed quickly to a relatively smooth drink for use on the bike. It delivers 32g of carbohydrates (13g from sugars) balanced in a 4:1 ratio with 8g of protein. The inclusion of thiamine, riboflavin, biotin, vitamin C and B12 all help to promote energy metabolism, with the addition of calcium and vitamin D for bone strength (an increased necessity for older athletes) and, again, vitamins B6 and B12 for the immune system.
Back to chocolate again for the Recover (ditto for the blending, non-clogging qualities) and a mix of whey powder and cassein to extend the 'recovery window' with 27g of protein and 28g of carbs (50% sugar derived) per 65g serving hopefully making quick work of getting you ready for the next ride. Again this is fortified with B6 and 12 for the immune system – which ironically can be somewhat compromised by endurance exercise – and calcium and vitamin D for the bones.
Because we often know so little about how our food is produced, harvested, stored and transported even those paying close attention to their diet could certainly do well to consider both food/sports nutrition fortification and vitamin supplementation and Elivar certainly addresses this admirably along with bringing a good range of additional benefits to boot.
The RDA (Recommended Dietary/Daily Allowance) percentage of vitamins varies throughout the range but taking vitamins C, D and E as a fairly representative example they are: 21%, 47% and 30% respectively for Prepare, 21%, 35% and 26% for the Endure, and 39%, 48% and 33% for Recover. Although all three products do contain sodium it was a surprise not to find the inclusion of potassium (possibly zinc and magnesium too) to aid hydration and replace the 'salts' lost through sweating during endurance exercise, especially as these form part of the complete package offered by the likes of Apres (review here) and For Goodness Shakes (review here)
Possibly this will be addressed in time along with the flavour (and flavour range); but for now Elivar is an excellent choice for those 35+ year-olds with a lust for life and desire to put in the miles on the bike.
Elivar Prepare and Recover are available in boxes of 12 individual 65g servings at £24.99 or 900g tubs (13 servings) for £34.99 and Elivar Endure in boxes of 12 individual 45g servings at £19.99 and 900g tubs (20 servings) at £24.99. For further details on Elivar and online retail see elivar.com