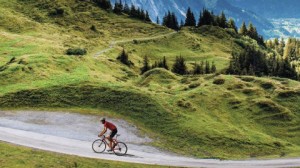 Subtitled Europe's Extreme, Undiscovered and Unforgettable Cycle Climbs, Mountain Higher is the sequel (of sorts) to Daniel Friebe and Pete Goding's beautiful Mountain High: Europe's 50 Greatest Cycle Climbs. Concentrating here on the continent's lesser-known, but still challenging and spectacular mountain roads and passes this is a sumptuous large-format book (no cycling jersey pocket potential unfortunately) that gives both lucid and narrative accounts of each detailed climb along with all the stats and stunning photographs to boot.
The spread through Europe is good – even Belgium gets something of a surprise entry with the 111m climb over 2.2km of the Oude Kwaremont – although the UK gets just a single mention in the shape of Scotland's Bealach ne Bà (626m). But this isn't a book for stay-at-homes (assuming UK residency), but rather for those looking for truly remote adventure in the less-explored regions of the Czech Republic, Italy, Poland and more. Correction: This isn't necessarily a trip-planners guide, it works equally well for those who daydream on the sofa…
Along with a smattering of lesser inclines, Mountain Higher details around 30 routes that rise above the 1000m mark and a dozen real monsters that top out above 2000m. Because the book is broadly organised lowest to highest each turn of the page reveals an increasingly lung-busting proposition until you finally reach the… No, we won't spoil the ultimate climb; it would be like revealing that Rosebud was a sledge (with apologies to anyone you still hasn't seen Citizen Kane.)
For those of you that find books made of paper a bit antiquated (tsk!) the free QuercusEye app allows you to hover over a selection of the photos and have them augmented with video and other detail. It's a slightly fiddly affair and Cyclo found it distracted from the pure pleasure of flicking through such a gorgeously constructed 'wish-list' but horses for courses. You can take a look at the video guide to the app at the end of this review…
Mountain Higher is certainly amongst our favourite coffee-table books of the year (along with Tour de France 100th Race Anniversary Edition, review here), regardless if you are planning to use it for adventure prep or fantasy musings; if you love two-wheels, it belongs on your shelf.
Mountain Higher: Europe's Extreme, Undiscovered and Unforgettable Cycle Climbs (ISBN-10: 1780879121) by Daniel Friebe and Pete Goding is published by Quercus, RRP £25.00 – available from Amazon.co.uk