In poor visibility and, of course, the dark good cycle lights are essential (a legal requirement in fact) but there are plenty of other ways to maximise your visibility and stay as safe as possible on the bike. Cyclo took a look at just some of the LED solutions available from the Nite Ize range…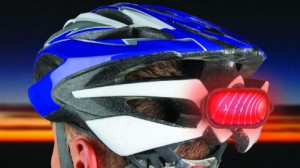 First up for test was the Nite Ize Helmet Marker Plus. Weighing an unobtrusive 19g the Helmet Marker Plus is a thin, durable polymer strip encased in weather-resistant nylon fabric, which can be attached to helmets via hook-and-loop strips or with the rubberised twist tie to pretty much any part of the bike – seat post, baskets, panniers, etc. The replaceable (and included) lithium battery powers either a continuous glow or strobe option with a maximum battery life of 75hours. Cyclo really liked the (literal) flexibility of this product, being easy to attach and remove it proved equally useful for mounting on the back of the helmet as it did attached to straps on a commuter day pack; the fact that the nylon cover also featured passive hi-viz reflective markings was a bonus, adding an extra dash of safety. RRP £11.95.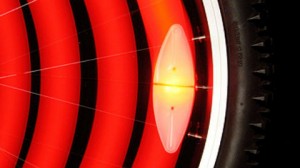 The Nite Ize SpokeLit is a commendable way of adding illumination from the side of the bike – something so often neglected. Press the unit between the spokes and slide it towards to rim until a tight fit is achieved (we found it stayed perfectly put once in place), press once for a continuous glow or twice for flashing mode and the supplied and replaceable battery gives up to 20hours of added side-on safety. Weather and shock resistant the Nite Ize SpokeLit retails at £7.95 with a choice of colours – green, amber, red, blue – or a 'Disc-O' option that cycles through a spectrum of colours in solid mode. A neat alternative, or indeed addition, to the SpokeLit is the button sized Nite Ize See'Ems, which come in packs of two (blue, purple, pink £6.95) and clip directly to the spokes to provide a continuous glow. Like the SpokeLit the See Ems produce an interesting, and attention grabbing, solid circle of light once you start pedaling.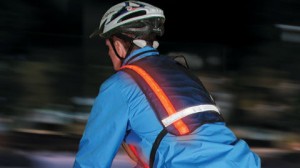 Finally, Cyclo took a look at the Nite Ize LED Sports Vest a lightweight black mesh vest made with 3M Scotchlite reflective material, which features two illuminated flexible polymer strips (one to the front and one rear) that can be set to either a solid illumination or strobe effect mode. The universal fit uses an elastic side strap with adjustable hook & loop closure, but regrettably is likely to still prove too big for most children – a missed trick as this lightweight vest would be perfect for tucking into a schoolbag for use on those school afternoons where the light is drawing in. Still, an excellent option for commuters that combines well advised reflective strips with the added benefit of flashing LEDs. The Nite Ize LED Sports Vest retails at £24.95.
Full details and online purchase of these (and other Nite Ize LED products) at niteize.co.uk
Cyclo is supporting the Child Brain Injury Trust's Child Safety and Awareness Campaign to get kids clearly visible on their bikes – find out more here.