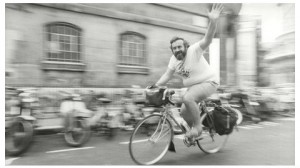 Broadcaster and former Radio 4 presenter Tom Vernon – known as 'the Fat Man on the Bicycle' – has died of a heart attack at the age of 74 at his home in France.
Vernon worked across a wide range of shows from the Today programme to Kaleidoscope and Feedback, but remains best remembered for his cycling exploits. His first show for Radio 4 in 1979, Fat Man on a Bicycle, followed his exploits as he pedalled from his home in Muswell Hill, North London to France; he followed this with the similarly themed Fat Man in Italy (1980) and Fat Man on a Roman Road (1983) and recreated his original journey in 1994 for television with Fat Man in France.
Promoting cycling (though admittedly not exactly healthy lifestyles) long before it became widely popular, Vernon also wrote a number of best-selling books based on his two-wheeled exploits.