Cyclo is supporting The Child Brain Injury Trust's Child Safety and Awareness Campaign (read our feature here) and with this in mind, and with the nights drawing in, we take a look at some of the best reflectives, lights, LEDs and other cycle safety products on the market. It's really quite simple – if you want to stay safe on the bike, you need to be seen…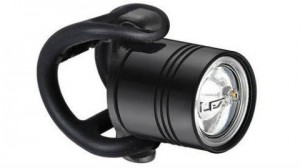 Lezyne Femto Drive LED – Keeping it simple (and simply beautiful) Lezyne offer a functional approach to cycle safety, with these tiny, machined aluminum lights that measure just 30mm long, with a sub-25mm diameter and a mere 29g in weight. Attached with modest, but effective, rubberised straps to the bike, the Femto Drive LED isn't astonishingly light at just 15 lumens front and 7 lumens rear, but they offer five modes – flash, slow flash, rapid flash, strobe and solid – and their go anywhere, fit in a pocket, dimensions means you never have an excuse to get caught without lighting – or extra lighting – again. RRP £12.99. Read the full Cyclo review here.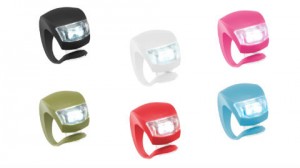 Knog Lights – Another long-time Cyclo favourite is the Knog range. This Melbourne-originated brand, has been producing cycling kit for a decade now and they continue to combine style with substance almost effortlessly. If the Femto's harder, more industrial lines are not to your taste then the Knog's softer approach to aesthetics could be for you. Take for example the Knog Frog Strobe, a flexible silicone bodied light with an impressive 80 hour burn time in flashing mode or 50 hours in constant; they connect to the bike with a quick release system, dish out a more than adequate 25 lumens and, for the fashion conscious, come in a range of five colours including a rakish pink. At around £7, they're a bargain too. Read the full Cyclo review here.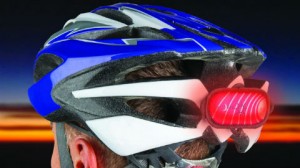 Nite Ize – Nite Ize supply an impressive range of LED cycle solutions including some child-specific appeal options, such as the bendable BugLit LED Micro Flashlight and carabiner-clipped flashers. Cyclo particularly likes the Nite Ize Helmet Marker Plus; weighing a minimal 19g it's a thin, durable polymer strip encased in weather-resistant nylon fabric, which can be attached to helmets via hook-and-loop strips or with the rubberised twist tie to pretty much any part of the bike – seat post, baskets, panniers, etc. Also worth a look is the SpokeLit which adds side-on visibility when added (easily and securely) to the spokes – press once for a continuous glow or twice for flashing mode and the supplied and replaceable battery gives up to 20hours of added illumination. Take a look at their products, reviewed on Cyclo, here.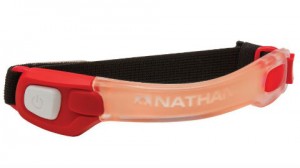 Nathan – Another option for excellent LED solutions – and numerous reflectives – is Nathan (nathansports.com). A brilliantly simple idea is the featherlite ClipLight (£10), coming in at just 7g, including battery, it clips onto apparel – a rear lumber pocket is ideal – or can be attached to ClipPods which, with their sticky back, can in turn be attached to pretty much anything else. With either solid or flash-mode the ClipLight is one of the smallest and most efficient cycle safety LEDs we've seen. If you want to add some extra visibility the LighBender is an arm strap, which is weather-proof and, in either blinking of solid mode, promises 2,400foot of visibility and up to 100 hours from the replaceable battery. RRP £19.99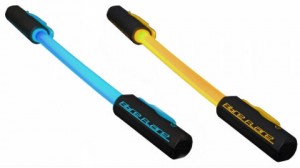 Fibre Flares – We loved Fibre Flares when we first reviewed them back in 2011 and not just because you can have lightsaber fights if you buy a pair. No, Fibre Flares provided much needed, and too often neglected, side-on visibility to the bike using high intensity LED's to illuminate a flexible fibre optic core and attaching ,via silicone straps, to a variety of bike parts including over-size tubes of up to 60mm. Available in a variety of lengths and colours and promising visibility for up to 300metres and a burn time of 75+hours on a set of two AA batteries – Cyclo can firmly say this is another cycle safety product that looks good in more ways than one. Priced from £21 – Read the full Cyclo review here.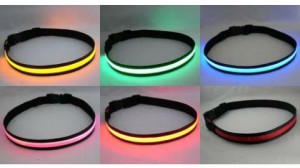 Aura Belts – An approach to not only side-on but true 360degree visibility comes in the form of the Aura Belt. Constructed from high-wearing 'ballistic' nylon, the Aura features an integrated LED strip (powered by a replaceable CR2032 battery) beneath coloured, weather-proof, fabric which switches on via a button next to the clip fastener. Available in six colours – pink, yellow, orange, blue, red, green – the belt can deliver either a fixed 'on' glow or two speeds of pulsing flash. It comes in a one-size-fits-all option (at £25) so regrettably not an option for kids as yet – but the makers tell us they're working on it. Read the full Cyclo review here.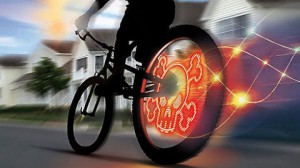 Fuze Wheel Writer – More side-on visibility, arguably for kids (or the big kids in all of us), comes in the form of the Fuze Wheel Writer. It looks initially daunting when it comes to fitting the individual parts to the bike's spokes, but is far easier than first feared. Once in place and switched on the Wheel Writer's ultra-bright LEDs can be set to display a range of images and animations as the wheel spins – aliens, skulls, flames, an old-fashioned 'space invader'… There's even an option to display the bike's speed if you're really looking to impress. It's not the most robust or weather-proof piece of kit, but might just provide the fun needed to encourage reluctant children to take cycling safety into consideration. RRP £19.99 and widely available online.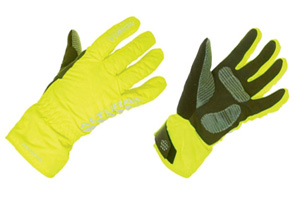 Altura Night Vision Gloves – Adding visibility to apparel greatly improves cycle safety and if you can keep your hands warm at the same time, all the better. The Altura Night Vision Gloves are a Nylon/Polyester mix and a 100% Polyester liner, which cope well with even the most biting winter wind and their ample and well-placed reflective detailing is to be commended. Pick the day-go yellow option rather than the ninja black and that will help visibility too. Available in five sizes – S to XXL – the padding is exceptional and the triple grip (thumb, outer edge and finger bases) delivers superb grip. Take a look at the full Altura Night Vision Gloves review from Cyclo here.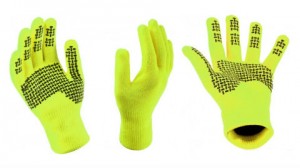 SealSkinz Ultra Grip Hi Vis Gloves – If you're looking for complete weatherproofing to combine with cycle safety the SealSkinz Ultra Grip Hi Vis Gloves come in either yellow or orange and feature the famous SealSkinz waterproof membrane. Feeling a little bulkier than traditional cycling gloves and lacking zone-specific padding these are best suited for commute rather than dedicated MTB or road cycling, but they live up to their name when it comes to grip – palm and fingers are studded with silicone dots that deliver a Spider-man like grip. They wick will and use Merino wool so their thermal properties are impressive too. RRP £32.50 details and online purchase at sealskinz.com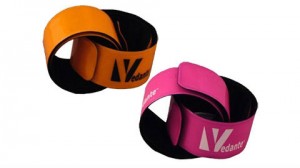 Vendante Pop Bands – Cycling safety doesn't have to be complicated and things don't come much simpler than the Vendante Pop Band. Made of highly reflective 3M Scotchlite (the go-to product for most on-garment sports reflectives) Pop Bands are flexed across their width to straighten, then tapped against the arm/leg to wrap them firmly in place without the need for Velcro, or similar fastening. Available in blue, green, orange, pink, white and yellow, the latter two promise reflectivity from up to 450 meters (the others a still impressive 130m). Vendante Pop Bands come in sets of two at around the £12 mark, Cyclo have tried other similar 'snap' bands, but for our money the Vendante are by far the most durable.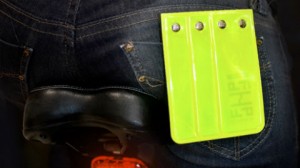 FlipFlap – One for the cycling commuters rather than the Lycra-lovers we feel. The FlipFlap is an unusual answer to cycle safety; a reflective designed to flip out of front or rear pockets – one side of these reflective paddles is rubberised to grip the pocket, whilst the flap which… well, flaps out, is hi-viz, tested to (and exceeding) the EN13356 safety standard. You can tuck the whole thing back into your pocket when not in use and it's on hand (bum) when it's needed. £16.95 (plus P&P) isn't cheap for a reflective but the FlipFlap does offer a little more than your standard set of stickers or bike additions. Curious, but well worth your consideration…
Feature photo courtesy of Moritz Waldemeyer. For more information on the 'Joy Rider', an exercise in pure minimalism that mounts two LEDs on spokes to paint a smiling face, and his other extraordinary light projects visit waldemeyer.com