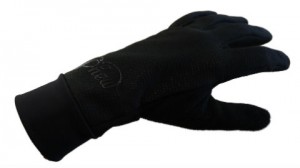 There's nothing worse than cold hands on the bike (actually there are far worse things, but cold hands are hateful.) With winter really starting to bite Cyclo took a look at two pairs of gloves from new boutique outfit Phew, who aim to produce premium products at affordable prices.
First (literally) on hand were the Phew Early Winter Gloves that combine an upper 'Windster' membrane for cutting wind-chill with a softer palm and well-placed gel pads for a relatively bulk-free shoulder season ride (3-12 degrees range, say the makers.) Comfort is excellent; they're well cut and the grip is outstanding with an extra thick palm-pad for shock-absorbency on rough terrain and a towelling thumb detail of wiping away sweat – okay, snot… Either way, a nice detail. Construction feels solid, with special note to the long cuff, and the styling and detailing look expensive, despite a more than reasonable £24.99 price tag. Not the warmest glove, but the clue is in the Early Winter name. Perfect for when those leaves are turning golden and the sun is low.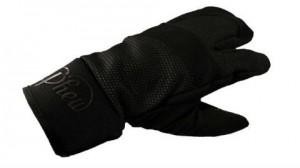 When things get colder still there is the Phew Lobster Outer Shell to consider. It can be used on its own or as an outer in conjunction with the Early Winter Glove to tackle proper negative temperatures. Again construction (plus style and detailing) is outstanding and the grip impressive – but they do lack gel padding, instead relying on the use of the Early Winter as an inner for that function. Even when the two are worn in conjunction the result isn't restrictively bulky and the thermal properties should see you through the harshest of conditions. The Phew Lobsters, like the Early Winters, are priced at £24.99.
When you consider that something like the Castelli Estremo Winter Cycling Gloves comes in at £65 (let alone the Assos fuguGloves_S7 at over £90) the Phew options, with the versatility of combinations, makes excellent sense to us. Both the Early Winter and Lobsters are available in S, M, L & XL – further details and online purchase at phew.cc