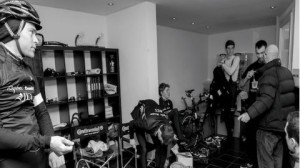 Rapha Condor JLT have announced three new signings to complete their roster for the 2014 season - Chris Opie, twice a winner at the Tour Series in 2012, 21-year-old Tom Moses joins after a successful year with team Raleigh in 2013, and Irishman Jack Sadler steps up to the team from their junior ranks.
Team manager John Herety commented, 'All three of these riders fit in very well with the ambition of this team. As with 2012 and '13 our overall focus is on the development of the talented riders that we have on the team. But at the same time – as has always been the case – our driving ambition as a cycling team, is to win races… Chris Opie has proved that he knows what it takes to win domestically this season – taking individual wins in both the Premier Calendar and the Tour Series, and I also believe that he has the potential to step up to winning internationally next season.'
Opie, who spent several years racing in Holland as a youth before returning to ride for the now disbanded UK Youth team, added, 'I am really excited to be able to join what is the most established team in the UK, and I'm really looking forward to the opportunities that will come along in what I am sure is a massive step forward in my career.'
The 2014 season gets underway for Rapha Condor JLT in January at the Bay Crits in Melbourne, before the team returns to the Jayco Herald Sun Tour later in January.