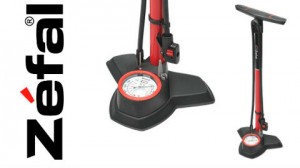 There comes a point in every cyclist's life when the standard on-bike or mini pump is no longer enough. Cast down in frustration for the final time and swearing to finally invest in that overdue garage-ready floor pump, isn't it time you invested? But where to start? It's possible to spend upwards of a £100 (yes, we're looking at you Topeak Joe Blow) whilst at the other end of the spectrum sits the likes of the LifeLine Performance at little over £20 – which leaves Cyclo looking mid-pack at the Zefal FP50…
At £44.99 the Zefal FP50 also sits mid-range in the company's own offering of eight models, but has much to recommend it and frankly nothing substantial to dislike. In red and black Zefal colour-ways the FP50 isn't light at over 1.7kg but with both a steel barrel and base (the latter making for good stability) the extra bulk makes sense for robustness – and, of course, it's a floor pump so you're unlikely to consider hefting it about with you anyway.
The hose is a fairly generous 1.1m and it's capable of delivering 180PSI, whilst the red bevel swings into action to mark out the desired pressure and ensure an accurate fill. This is also helped by an over-sized (80mm) dial and, for good measure, a magnifying window that swings with the bevel mark; there's really no excuse for getting it wrong with the Zefal FP50. The handle, a lighter-weight dual-composite, is comfortable and the piston action feels effortless even when filling to higher pressures or trying to squeeze in those final few BAR.
The FP50 also neatly overcomes the fiddly job of Presta and Schrader switching thanks to the pump's 'Z-Switch system', where a slide of the switch on the fill head quickly replaces one for the other. However, the slightly plastically feel to the head (and switch system) was the one area that smacked of 'weakest link' failure point – time will tell…
Buy cheap, but twice is so often the case and top-end floor pumps – whilst potentially giving you a longer lifespan of use – seems disproportionately costly. For us the Zefal FP50 feels like a solid option in more ways than one.
Further details of the Zefal FP50 and the extended range at zefal.com