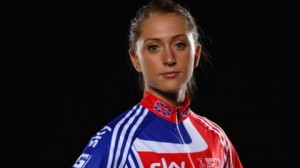 Laura Trott has won GB's fourth Gold at the Track Cycling World Cup in Manchester with a solid win in the Omnium, finishing five points clear of Canada's Gillian Carleton. The success follows her Gold as part of the new look Women's Team Pursuit event with Dani King, Joanna Rowsell and Elinor Barker, which saw them break their own world record time on day two of competition. Trott was not the only double-winner with Rowsell qualifying fastest with a 3:34.341 in the Individual Pursuit before claiming Gold in the final.
GB also took Gold in the Men's Team Pursuit on the opening night in Manchester, which saw European champions Ed Clancy, Andy Tennant, Steven Burke and Owain Doull, beat rivals Australia by a mere 0.639 seconds. The biggest shock (and disappointment) from the three days of action was Jason Kenny's failure to pass beyond qualification in the Men's Sprint – something that should have been nothing more than a formality.
Despite the blow Great Britain finished second in the medal standings at the Track Cycling World Cup with eight medals: four Gold, two Silver and two Bronze.