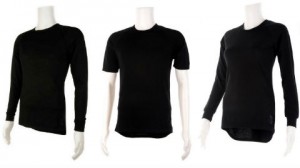 Merino wool has been prized for its luxurious qualities for more than 1000 years; Cyclo's no Simon Schama, but we're almost certain this predates both the bicycle and man's need for technical base layers. Sooner or later these things were going to converge though, and they do so beautifully in the No Nonsense Merion tops from 74 Degrees.
Made in New Zealand the cut and style of the No Nonsense is commendably simple, elegant and unadorned (no nonsense, you might say) with a black-on-black logo so discreet it's like a mini-game trying to spot it. Using only 100% fine merino wool – ecological, sustainable and biodegradable – the 215gsm knit is heavier than many base layers that use the same material; whilst others skimp on the costly fabric, 74 Degrees indulge to create a layer that not only works well across a broader range of temperatures but should prove longer-lasting and retain shape far better. Because the wool is naturally antibacterial, keeping 'bike stink' in check and (relatively) strain resistant this is one piece of apparel that should serve you for many years.
Comfort is superb and if you think wool is itchy, think again. Merino is almost silky soft and although the side seams look slightly bulky they sit perfectly flat on the ride and apart from the noticeable temperature regulation (merino helps retain heat in the cold, but keeps you cool as things heat up) we hardly noticed we were wearing the No Nonsense.
Yes, there are cheaper base layers to be had – there are even cheaper, if lighter, merino bases out there (Altura and Endura both around the £40 mark for example) – but the 74 Degrees No Nonsense Merino Base Layer is demonstrably a superior beast. The men's long-sleeve retails at £54.00, the women's equivalent and men's short-sleeve option at £49.00
For further details on the No Nonsense Merino Base Layer and other products from 74 Degrees see seventyfourdegrees.com