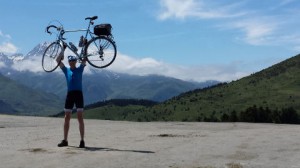 As a relative newcomer to cycling Tim Friend decided not to do things by halves and took on 400 miles from Perpignan to Lourdes for his first serious ride; through the foothills of the Pyrenees and taking in Andora, he tackled several summits of Tour de France fame, including Tormelet, Aspin, and Aubisque and did it all on a decidedly old-fashioned bike. Cyclo spoke to him on his return to talk through the highs and lows of a ride in the mountains…
Cyclo: By your own admission you were not much of a cyclist before this challenge. What made you take it up?
Tim Friend: That's right, I've been playing amateur rugby and enjoy a bit of running. Once a week, I'd cycling to work (20 miles round trip). I often romanticised about a cycling adventure and on holiday in Majorca, surrounded by children and sand castles, I looked enviously at the cyclists returning each day from the mountains. Their bikes and kit looked so cool and the challenge of mountains felt enticing. From the outside, it appeared so exclusive. I wanted to break in.
Cyclo: And you were raising funds for charity too?
Tim Friend: Yes, we'd just had a guest staying with us from an African slum, which literally brought home the reality of poverty. I used the opportunity to raise funds for a Malaria appeal by Christian Aid to help provide community workers in Sierra Leone to educate people in protecting their children from the disease.
Cyclo: You were with a team of other cyclists – was it competitive?
Tim Friend: There was an element of competition. We were a group of 14 cyclists and two drivers. From the start, we were sizing each other up, working out who we might stick with for the first couple of rides, who we'd let steam off on their own etc. We agreed that we'd race up the Tormelet on the penultimate day. Most of the guys had done it the previous year so knew what to expect. I was nervous, even abstaining from a glass of wine the night before! I did it in 1 hour 40 minutes, coming 8th, pleased but feeling I had much more in the tank. The final four kilometre markers had been destroyed by melting snow (which also took out some of the road) and the summit is not visible until the final corner. I'd love to do it again setting a faster pace, aiming to take off at least 10 minutes…
Cyclo: How did you train for such mountainous terrain? 
Tim Friend: My main concern was to dramatically increase my weekly mileage. Over eight weeks, I averaged 125 miles-per-week, not knowing if that was sufficient but aware it was all I could fit in around work and family. Sometimes, I'd head out for a two-hour circuit of the local climbs, though there's nothing more than 1.5 miles long nearby, but some are pretty steep. I joined a welcoming club and cycled occasionally with a very able cyclist who taught me a couple of techniques – primarily to do with riding on the horns (to open the chest for breathing) and peddling more efficiently uphill.
Cyclo: Any cross-training or all on the bike?
Tim Friend: All on the bike for the eight weeks leading up to the trip, including plenty of stretching and 10 days rest before I hit the Pyrenees. I was relatively fit from running and rugby before I began focusing on the bike.
Cyclo: Your choice of bike was fairly unconventional – what was it and why did you choose it for this ride?
Tim Friend: I'd been given an 'old-school' Dawes Galaxy steel-framed touring bike a number of years ago by a retired cyclist. With some modern components and a re-spray, this solid machine from the 1970's became my closest ally for two months. I'd intended to buy something more flash (not to mention lighter) but as the trip neared, I realised I couldn't leave the old boy behind. His reliability in training had earned him a place in the team. I wanted to see if I could complete this challenge on a shoe-string, especially as I was raising money for charity. Added to that, I didn't know if this trip would make or break my interest in the sport!
Cyclo: Any specialist kit or gear with/on the bike?
Tim Friend: I'm glad I swapped the tyres I'd been training on for some slicks. That helped me to keep up with the faster carbon bikes.
Cyclo: What was the most essential thing you took?
Tim Friend: When I started training, I wore baggy shorts and a rugby shirt. By the time I'd landed in France, I had a quality, lightweight gilet plus some basic arm-warmers (both items fantastic for the chilly descents and packed into a pocket) and some mid-range bib-shorts, which were comfortable and didn't fill up like sails.
Cyclo: Anything you wish you'd ditched or not taken?
Tim Friend: Not really – I'd done my research and packed fairly minimally. However, on the first couple of rides, I took too much clothing and too much food. As my confidence grew (and as the weather seemed to be consistently dry and warm), I was able pack lighter for each day.
Cyclo: How about fuel? What were you eating to power your ride?
Tim Friend: Each night, I'd fuel up on whatever was going in the local restaurant, ordering pasta and emptying several complimentary bread baskets. Porridge for breakfasts. The best tip I picked out of a book on nutrition for endurance cycling was to break up an energy bar into small pieces, stuff them into a pocket and set an alarm for 15 minute alerts indicating when to have a piece. This worked perfectly for me. I didn't waste energy digesting large quantities at once and didn't get low on sugar.
Cyclo: Which was the toughest day?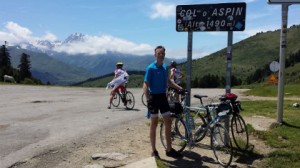 Tim Friend: The first day – it was terrible! We set off through the foothills for the Pyrenees having no idea what the 50 miles ahead of us entailed (our French maps didn't have gradients). The first hill turned out to be the longest climb of the entire week – 30 miles! After each turn, I thought 'This has got to be the last corner', but it just kept going. I didn't sleep well that night worried that the mountains would be far worse. It wasn't the case – each mountain climb was relatively short and sweet with rewarding views.
Cyclo: And your favourite moment?
Tim Friend: An omelette on top of l'Aubisque outside a cafe above the clouds of the Pyrenees. We had just cycled around 'the cauldron' before the final section of the climb, which was stunning. The omelette tasted better than any I'd ever had. And with Lourdes almost in sight, we were in buoyant mood.
Cyclo: What top tip would you give anyone taking on their first big cycling challenge?
Tim Friend: As a friend from Sherwood CC said to me, 'Put all the hard work into the training so you can enjoy the adventure when you're out there.' (And don't be sucked into thinking you have to buy all the expensive kit – it's the pedalling that counts!)
Cyclo: Are you planning anything else to follow this up?
Tim Friend: Yes, hoping to return to the mountains next summer to cycle from Nice to Lyon, to include Alp d'Huez, with the same motley crew… Same bike though? I'm weighing that up. I'd like to build a bike from scratch to learn more about it and like the sound of a titanium frame. But that's another chapter.