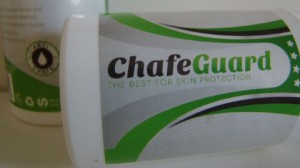 There's probably no less sexy a product to review than an anti-chafing oil, but then there's little less sexy than badly chafed thighs. Honestly, the things Cyclo does for you…
In a nutshell Chafe Guard from Bournemouth-based Synergy Action is a 50ml pump that dispenses onto the hand for rubbing into any likely hot spots – thighs, seam lines, sock heels, etc. It contains both dimethicone, a silicone oil (which is also used in, amongst other things, shampoo to give you shiny locks) and cyclopentasiloxane, – also a silicone oil. It is, as you would expect, a fairly oily experience that leaves the hands slick and needing a good clean pre-ride – not ideal and certainly not one we would take out on the bike (not least because of the 50ml bulk pot size.) However, those of a triathlon persuasion will be pleased to know it is wetsuit-safe.
Chafe Guard feels a little thin to be truly effective and so it really proved to be. Short-term it seemed to do the job (or perhaps chafing hadn't thus far been an issue) but three hours into a Sunday sportive there was distinct rubbing in unmentionable areas despite a liberal pre-ride application. For Cyclo's money (about £12 of it) we would still rather rely on the likes of Bodyglide Chamoisglide Balm – it's smaller (36.9g), so more pocket-friendly and works as a dry barrier without chemicals and additives.
So there we have a very unsexy review – but at least you know now which we prefer. Andy why…
Chafe Guard RRP £8.50 available at synergyaction.eu – Bodyglide Chamoisglide Balm RRP £11.99 is widely available including at chainreactioncycles.com