Time then to fill your Christmas stocking with all things two-wheel themed and with Cyclo's guide to Cycling Christmas Presents 2013 we think we've included something for everyone – even for those who think they already have everything…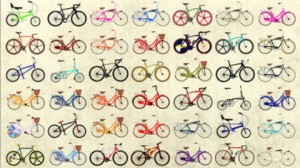 Andy Scullion Prints
Andy Scullion is a graphic designer who graduated from Nottingham Trent University in 2009 with a degree in product design – he combines his passion for cycling (his current bike is a Specialized Allez, since you ask) with a talent for creating beautiful bike-related products. Amongst his numerous print works our favourite is simply entitled 'Bikes' and features over 100 miniature masterpieces of two-wheeled wonders. Handmade and available in a variety of sizes (A2, A3, A4) and with prices starting at around £13.50 there's plenty for all budgets and there's nothing that says 'I love bikes' like hanging some pictures around the house, right? You can contact Andy and view and purchase his work at etsy.com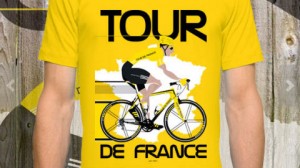 Tour de France T-Shirt
Also on offer from Andy (we featured his Ts extensively during this year's TdF) is this pretty stylish Tour de France non-technical T-Shirt. A great piece of graphic design that will either remind you of this year's stunning event or set you up nicely in anticipation of the 2014 Grand Départ. Handmade to order and available in S, M, L, XL and XXL at £15 the TdF T-shirt is just one of a dozen designs, which also include a version of the 'Bikes' print featured above and several Brompton-based ones for lovers of the classic folding bike. Again, you can contact Andy and view and purchase his work at etsy.com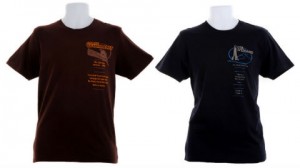 Signature Series T-Shirts
On the subject of both non-tech T-shirts and the Tour de France, Cyclo has also enjoyed the Signature Series Ts from 74°. Made using soft, comfortable 100% fairtrade organic heavyweight cotton jersey with seamless set-in rib knit collar and taped shoulder and neck for comfort, these Ts are available in a range of designs each featuring a classic TdF climb – Col du Galibier, Alpe d'Huez, Mont Ventoux, etc. – with a stylised representation and associated quote for each. Not only do they look and feel good, they have that slight 'I know what I'm talking about' quality that serious bike and Grand Tour aficionados will revel in.  Available in S, M, L, XL and XXL at £20, details and online purchase at seventyfourdegrees.com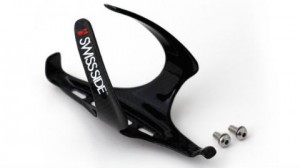 Swiss Side Carbon Cage & QR Skewers
Swiss Side only fired up back in 2011 but their mission to produce quality additions that compliment their growing wheel options whilst helping to minimise weight has already impressed. As founder Jean-Paul Ballard puts it: 'Reducing weight is always important on a road bike as less weight ultimately means more power to the ground… We've chosen titanium and carbon fibre materials to achieve the lightest possible weight.' Their ultra-light titanium & carbon fibre quick release skewers weigh in at just 43g, whilst their carbon bottle cage is just 26g – both well worth considering for the cyclist that really likes to tot up the overall weight.  £36.50 for the QR skewers and £28 for the cage – further details at swissside.com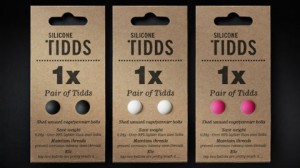 Tidds
Is this taking weight-saving too far? Maybe, but for carbon fetishists out there Tidds are dinky little silicone plugs that replace standard metal bottle cage bolts, shaving a reported 90% of the weight in the process. Coming in at just 0.5g for a pair (£3.99), you just lube them and push and twist to fit. Even if you don't think the minimalist weight alone is worth it, they do clean up the line and look of te bike (choose from black, white or pink) and next time someone is boasting about their carbon creature you can nod wisely and say, 'yes, but do you have Tidds?' A nice stocking-filler for the cyclist that really, really does have everything (else). More at siliconetidds.com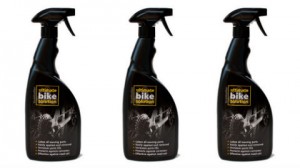 Ultimate Bike Solution
Okay, this is definitely not the sexiest Christmas present you could buy someone; so perhaps just treat yourself. We love anything that makes our life easier so the one-stop Ultimate Bike Solution really appealed – it's basically an all-in-one oil/lube/protector/degreaser/cleaner. Wash down the bike after use, spray all over with Ultimate Bike Solution (being careful not to spray brake pads or discs) and you get a shiny bike that's lubed and ready to go next time you are. Ultimate Bike Solution retails at £9.99 with further details at ultimatebikesolution.com and online purchase at scottoiler.com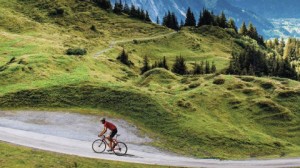 Mountain Higher
Cyclo's favourite book of the year is (probably) Domestique by Charly Wegelius but if your looking for a present to inspire the cyclist in your life – or get them to go on holiday without you – we would highly recommend Mountain Higher: Europe's Extreme, Undiscovered and Unforgettable Cycle Climbs by Daniel Friebe and Pete Goding. Covering the continent's lesser-known, but still challenging and spectacular mountain roads and passes, this is a sumptuous large-format book (no cycling jersey pocket potential unfortunately) that gives both lucid and narrative accounts of each detailed climb along with all the stats and stunning photographs to boot. Want more? The free QuercusEye app allows you to hover over a selection of the photos and have them augmented with video and additional detail. Published by Quercus and with an RRP of £25.00 – Available from, amongst others, Amazon.co.uk
Looking for more cycling books? See Cyclo's guide to the Best Cycling Books 2013 here.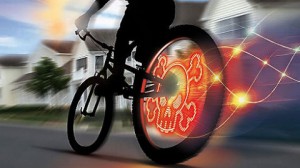 Fuze Wheel Writer
Excellent side-on visibility, arguably for kids (or the big kids in all of us), comes in the form of the Fuze Wheel Writer. It looks initially daunting when it comes to fitting the individual parts to the bike's spokes, but is far easier than we first feared. Once in place and switched on the Wheel Writer's ultra-bright LEDs can be set to display a range of images and animations as the wheel spins – aliens, skulls, flames, an old-fashioned 'space invader'… There's even an option to display the bike's speed if you're really looking to impress. It's not the most robust or weather-proof piece of kit, but might just provide the fun needed to encourage reluctant children to take cycling safety into consideration. Helps make cycling fun too (but of course it already is…) RRP £19.99 and widely available online. Including from Argos.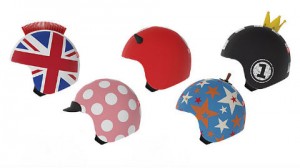 EGG Helmet
Also for the younger cyclist and definitely the cutest product we've see this year is the EGG helmet. Suitable not only for cycle and skate but also snow and water sports, the EGG is an incredibly solid piece of kit that allows for almost infinite configuration and personalisation. Pick a helmet – small at 48-52cm or medium 52-56cm, add a 'skin' – anything from union jacks (or union flags for the pedants amongst you) to daredevil 'Dante' flames or Cath Kidston-style flowers then add 3D adornments such as horns, fruit stalks or mini-mohawks, which can be snapped onto the helmet even once on. With an ABS outer shell, a flexible EPP safety core, and an EVA comfort core the sandwich design offers maximum protection, whilst an integrated finger-press air pump adjusts everything for ultimate comfort. The basic EGG helmet costs £59.95 with skins and adornments ranging upwards of £7.95 – available from John Lewis.